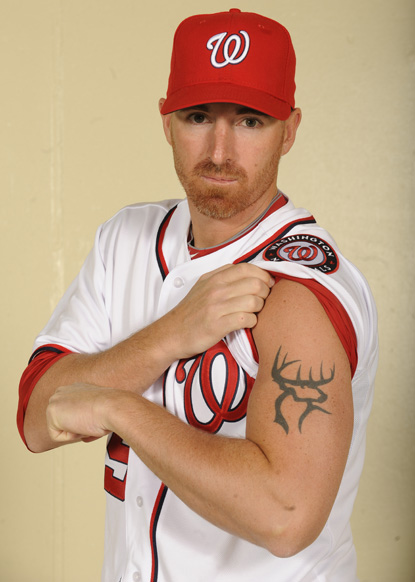 Major League Body Art Fouls!
Article by:
SlingerVille Staff
October 29, 2012
When it comes to tattoos on famous baseball players, not all of them can say they "hit a home run" when it comes to their choices and RadarOnline.com is sharing what players in particular have bad body art.
"Hopefully, New York Mets' Jon Rauch lives happily ever after with his wife! The pitcher has a rather extensive collection of body art, including a large vertical back tattoo symbolizing his wedding day, the Olympic rings commemorating his 2000 gold medal win and a variety of other meaningless symbols.
"Arizona Diamondback Ryan Roberts isn't bashful about his body art! The infielder, who clearly earned his nickname 'Tatman' has over 30 permanent etchings plaguing his body.
"New York Yankees Andrew Jones, who is currently playing in the series, clearly spends his time off the field getting inked. His most famous tattoo is a spider web on his left elbow."
This is only a few of the ball players that RadarOnline.com named, go here to see more: http://www.radaronline.com/exclusives/2012/10/baseball-worst-tattoos-photos-major-league-world-series
---
Comments
No comments yet.