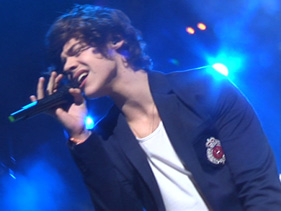 Harry Styles' Tattoo Artist Spills About His Latest Ink!
Article by:
SlingerVille Staff
October 23, 2012
Harry Styles' Tattoo Artist Spills About His Latest Ink!
Harry Styles from One Direction loves his tattoos; he recently showed off a few of his new tattoos, including the sign for 99 pence of British money, two zigzags, and a few sayings on his arms, "Things I can" and "Things I can't." Now Harry's tattoo artist dishes about his latest tattoo.
Whenever one of the boys from One Direction are in need of a new tattoo, they always turn to the same guy, U.K. based artist Kevin Paul.
"They are these tiny little bits and pieces," Paul told MTV News about Styles' multiple pieces of ink. "Everyone's different, like Zayn [Malik's] got microphones and music stuff and, like, Harry has more personal things, like he has little things for his mom and all that kind of stuff. They're all pretty different on what they have, like their ideas. He hasn't got proper tattoos. They're just scattered around. I think as he gets older he will want proper pieces and he'll have all these little pieces."
He added, "The first time I tattooed [Harry], I tattooed him and Ed Sheeran at the same time. We spoke about a few things then."
The way it usually works for Paul and his clients, including the likes of 1D, is he books some time with the person just days before to go over ideas before the pen hits the skin. "The last person I spoke to was Zayn about getting tattoos," he teased, adding that he is pondering over the idea of an old-fashioned stereo. "That was the last time I spoke to One Direction about tattoos."
Paul has his clients best interest in mind, if he doesn't like an idea he will let it be known before any mistakes are made. "If I don't think it's going to look good I'll tell them because it looks bad on me," he said. "With like Harry, Harry had loads if ideas last time and it was just all random things and I told him that really think about what you're going to have because it's all right now when you're 18, but like when you're 24 or 25, what is the little squiggles on the side of your arm going to look like?
"[Zayn's tattoos are] all music related, which is a big part of his life and stuff so I don't think he's really going to regret that," he added. "I always tell people to have things that are personal to them cause if you have things that are personal you are never going to regret it."
Paul began his career as an artist years back, working with metal bands such as Cradle of Filth. But, the switch of canvas is a change he's taken in stride. The transition took place by word-of-mouth when U.K. hip-hop act Rizzle Kicks told Sheeran about his work, and from there, everyone's wanted a piece of Paul.
"It kind of creeps up on me, to be honest. I've been a tattooist for 20 years and I've won loads of awards, I've done tattoo conventions, been in loads of magazines, all that," he said. "It's just gone really manic."
Source: http://www.mtv.com/news/articles/1695999/one-direction-harry-styles-zayn-malik-tattoo-artist.jhtml
---
Comments
No comments yet.