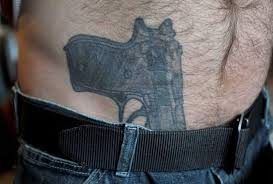 Man with gun tattoo had real gun in waistband
Article by:
KSDK
June 16, 2014
MADISON, Maine (AP) - Police in Maine say a man with a realistic-looking tattoo of a gun on his stomach had the real thing tucked into his waistband when he was arrested.
Police tell the Morning Sentinel that 41-year-old Michael Smith, of Norridgewock, showed up at a sheriff's deputy's home Thursday night. Police say he was crying and had been drinking.
Authorities say Smith told police he had a fight with his ex-girlfriend and had stolen prescription narcotics from her.
He was charged with stealing drugs, and the gun was confiscated. He was released from jail on $1,000 bail. His phone has been disconnected.
Smith made headlines in March when members of a tree removal crew reported that he had a gun. But the gun turned out to be his tattoo.
Source: http://www.ksdk.com/story/news/2014/06/15/man-with-gun-tattoo-madison-maine-michael-smith/10559553/
---
Comments
No comments yet.