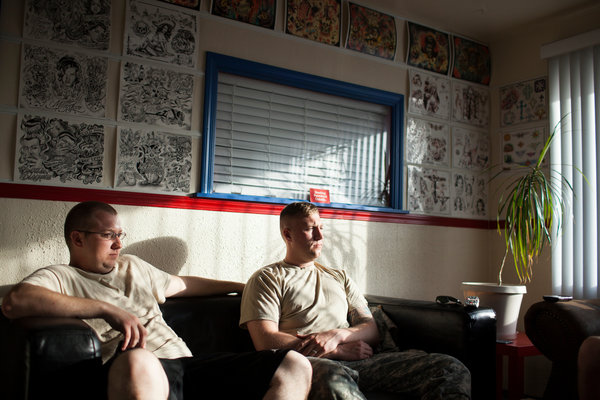 Before Ink Dries on Army Rules, Soldiers Rush to Get Tattoos
Article by:
NYTimes.com
May 03, 2014
LAKEWOOD, Wash. — An Army soldier walked into Brass Monkey Tattoo last month and told Dan Brewer, the tattoo artist, to go for it.
"He dropped a thousand bucks," Mr. Brewer said, standing in the shop here, about five minutes from the gate of Joint Base Lewis-McChord. Ten hours under the needle later, an ex-girlfriend's name from a previous tattoo had been covered up, and a memorial to six buddies lost in the war in Afghanistan had been inked across the soldier's back and ribs. "It was a good day," Mr. Brewer said.
The military tattoo has a deep history, with reports going back at least to the Roman legions, historians say. Images of adventure or battle — if not a haunting beauty from the frontiers of Gaul — could be captured forever on a bicep. Declarations of unit loyalty or individuality, or both, could be sealed through rituals of ink and pain.
But now a tightening of the Army's regulations on the wear and appearance of uniforms and insignia — issued on March 31 with a 30-day window of unit-by-unit enforcement — have driven a land rush here and at other Army posts to get "tatted," as soldiers call it, while the old rules still applied. About 40,000 active duty and reserve personnel are stationed at Lewis-McChord, about an hour south of Seattle, making it one of the United States military's largest bases.
Click here to read more: http://www.nytimes.com/2014/05/01/us/before-ink-dries-on-army-rules-soldiers-rush-to-get-tattoos.html?_r=0
---
Comments
No comments yet.