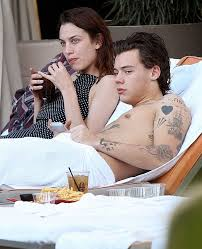 Harry Styles covers 'things I can`t' inking with Holy Bible tattoo
Article by:
DNAInida.com
January 20, 2014
Harry Styles has covered his "things I can't" tattoo on his left arm with a Holy Bible inking.
The 19-year-old singer also has "silver spoon' etched onto his skin, the Mirror reported.
He had earlier re-worked another piece of body art where he used the base of an anchor to hide "I can't change' inked on his wrist.
Source: http://www.dnaindia.com/entertainment/report-harry-styles-covers-things-i-can-t-inking-with-holy-bible-tattoo-1954060

---
Comments
No comments yet.