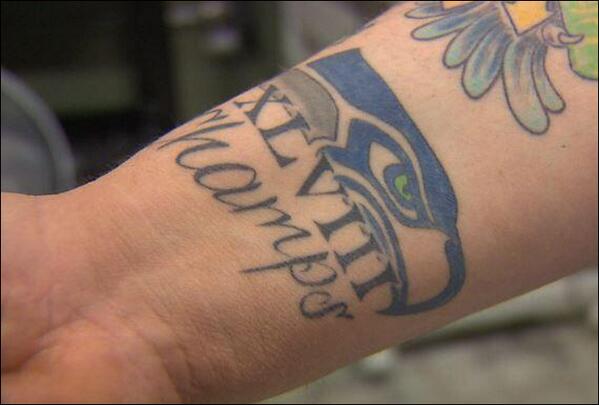 Seahawks fan got 'Super Bowl Champs' tattoo
Article by:
SFgate.com
January 17, 2014
Those crazy Seahawks fans are at it again. Or at least one is.
Tim Connors tattooed a Seahawks' emblem on his wrist accompanied with the words, "XLVIII Champs" Yes, this Seattle fan has such a supreme belief in an upcoming Seahawk Super Bowl victory, he slapped it on his skin.
"I'm not crazy," said Connors, who embedded the tattoo on his person before the season. "I'm not crazy at all."
Connors told Komonews.com that fellow fans have been 95 percent supportive and that includes his tattoo artist, Lonnie Moon. The once skeptical Moon now sees Connors' tattoo as a marketing opportunity. Moon and some of his fellow artists are offering a discount from $150 an hour to $100 an hour for Seahawk tattoos.
Safe to say Connors has a lot of skin in the game.
Source: http://blog.sfgate.com/49ers/2014/01/16/seahawk-fan-and-his-risky-tattoo/
---
Comments
No comments yet.