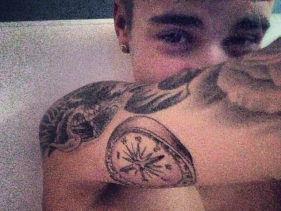 Justin Bieber Gets Fresh Ink
Article by:
MTV
January 13, 2014
Over the weekend, the "All That Matters" singer posted two photos of his first tattoos of the New Year, which brings his tattoo count up to 22. The first photo revealed a jester on his forearm, which he later colored in. The ink seems to be an appropriate image for Bieber, who may (or may not) be in the joking mood as of late, as he recently announced his questionable retirement. Maybe this latest tattoo suggests it was a joke all along?
Bieber followed that up by revealing another tattoo, proudly showing off his "new tat," a compass on his right tricep.
These tattoos join the myriad of body art Bieber has acquired since 2010, including a tattoo of his mother's eye, an eagle and a woman in angel wings, who bears a strong resemblance to on-again-off-again girlfriend Selena Gomez.
Lately, Bieber has found himself in a bit of hot water. Last week, video surfaced of the pop star trespassing onto his next-door neighbor's property in Calabasas, California, and egging his house.
TMZ is now reporting that Bieber may be charged with a felony for hitting the house with no less than 20 eggs. In California, if damage of the home is greater than $400, the charge becomes felony vandalism.
The district attorney's office will be receiving the case sometime this week.
Source: http://www.mtv.com/news/articles/1720363/justin-bieber-new-tattoos-jester-compass.jhtml
---
Comments
No comments yet.