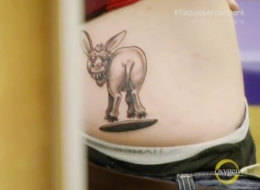 Tattoos After Dark': Never Let Your Buddy Pick Your Tattoo
Article by:
Huffington Post
January 03, 2014
Oxygen's new show, "Tattoos After Dark," isn't about a wacky tattoo parlor, and it's not about people trying to fix tattoo mistakes -- though it may come to that later. It's apparently about the weird people dropping by two Hollywood tattoo shops late at night.
In the premiere, Joe lost a bet -- he failed to get a girl's number -- and so he agreed to let his buddy Carlos pick out a tattoo for him. And because guys are jerks to their pals, Carlos chose a picture of a donkey standing over a black hole. He wanted it on Joe's left butt cheek. Because it's an a** and a hole near his friends a**hole. Get it? Get it?!
Surprisingly, Joe still went through with it, and didn't even seem that mad. We'll see how long it takes before he shows up on "Tattoo Nightmares" to get it covered up. At The New York Daily News, David Hinckley points out that in this show, the artists are the more level-headed ones, counseling their clients through some bizarre tattoo requests. And while he has a hard time believing these people are just random customers, it's hard to not get drawn into their crazy stories.
"Tattoos After Dark" continues on Wednesdays at 11 p.m. EST on Oxygen.
Source: http://www.huffingtonpost.com/2014/01/02/tattoos-after-dark-premiere_n_4529965.html
---
Comments
No comments yet.