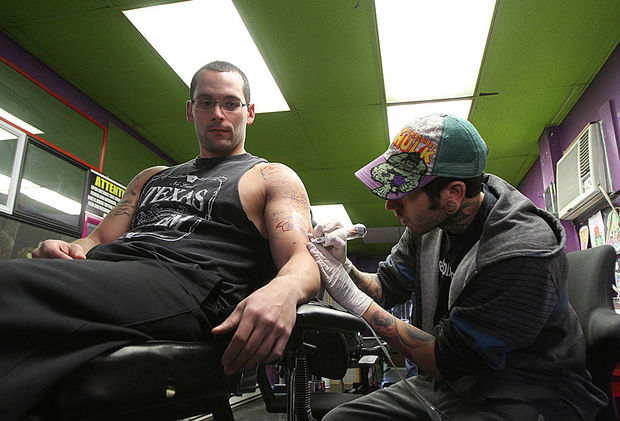 Trenton tattoo artist gains popularity as he competes on 'Best Ink' reality show
Article by:
NJ.com
December 30, 2013
Joey Matisa is an artist who specializes in different strokes for different folks.
He doesn't use a paintbrush, and his canvas is human skin. But his talent and his artistry are as certain as the indelible images he sketches and then buzzes onto the bodies of clients who have been known to line up with lawn chairs outside his popular Kiss of Ink tattoo parlor at 515 Hamilton Ave. in Chambersburg just for a chance to get "inked" by Matisa.
Doubt that? One of his partners produces the photos on his cell. Phones that don't stop ringing at Kiss of Ink are further evidence. And then there are the walk-in customers who come in for piercings, straight off the street — in groups.
Adding to Matisa's appeal? His overnight jump in popularity tied to his participation on the reality show competition "Best Ink" airing on the Oxygen network Wednesday nights at 10 p.m. The Trenton native and resident has already survived the first three episodes of competition, ranking in the top three competitors in week 2 and as winner of week 3.
One of 14 contestants invited to appear on the show that launched its third season Dec. 4, the 24-year-old says business is doing so well he's had to change the way he works to accommodate his growing clientele.
"I used to get five to 10 calls a day and now I get a lot more than that," Matisa explained on a recent afternoon. "I have to book a couple months in advance. Before being on the show, people could walk in. Now it's by appointment only and I only do two to three a day."
A four-hour session with Matisa that also includes a consultation, sketch of what the customer wants and the actual tattooing, costs $500.
Prevented from revealing how far he's gotten in the show due to a confidentiality agreement he signed in order to participate in filming he did last summer in Los Angeles, Matisa is in the running for a $100,000 grand prize along with a cover story in Tattoo magazine. His spirited commentary and ease in front of the camera make him a TV natural.
A talkative, likable guy with an elaborate tattoo across his neck, others on his chest, ribs and tops of his thighs, he even bears a small skull and crossbones on the side of his right eye, courtesy of his dad, Chris, who now has shops in Virginia. The Trenton shop belonged to his dad as Il Bacio ("The Kiss" in Italian) and the elder Matisa made his son an apprentice when the boy was only 13.
By the time he was 17, the young Matisa was a full-time tattoo artist, an early graduate of Ewing High School, and determined to make it on his own. He and partner Kenny Kincaid now operate both the Chambersburg parlor and another called Ink Junction in Flemington.
When he isn't inking a client, Matisa writes music and performs as a hip-hop artist under the name Bazooka Joe.
But when it comes to business, Matisa may as well be wearing a suit and tie. He uses only disposable needles, keeps everything sterile and accepts only adult clients, and 16- and 17-year-olds who must have parental consent and a birth certificate.
Paperwork is handled before anyone sees one of the tattoo or piercing professionals in the shop. The Trenton location is endorsed on Angie's List, a national company that recommends businesses based on clients' experiences.
In an animated conversation, Matisa mentioned his travels and experiences with French waiters, the nightlife in Barcelona and how it's best to stick to the shoreline when touring Australia.
Then he eased into an explanation of how he lived in a van for a year while he saved enough money to pay cash for a house in Trenton's South Ward that he calls home. It's all matter-of-fact and woven into a tapestry of conversation that he peppered with a self-deprecating sense of humor.
Matisa acknowledges that tattooing has achieved a new degree of acceptance, even though he admits an older woman saw him in a shop recently and said she thought his tattoos were "disgusting." Partner Kincaid, a Hopewell Township resident, said he has it even harder in his bucolic community.
"They walk across the street when they see me," said the man with piercings around his brows.
But Matisa points out that one of his clients is an orthopedic surgeon in his early '70s. More women of all ages come in. Some customers bring in their parents.
Others range in age from 50 to 75. Another client is a chef at an area hospital who has had everything but his feet tattooed by Matisa.
"If you saw me in my work clothes, you would never even know I had a tattoo," explained Joe McAlinden, a Trenton resident who is a chef at Capital Health Regional Medical Center in the city. "We're thinking about how we're going to do my feet. When you come down to the last part of your body you have space for ink on, you have to really think about it."
When Barnegat resident Daniel Davila, 28, came in for an elaborate tattoo on his left arm recently, he was prepared for a four-hour, nonstop session that he discussed and booked with Matisa earlier. One look at the lighthouse, sea turtle and ocean Matisa drew brought a smile to Davila's face. "That's great," he said as he viewed the sketch for the first time. The tattoo, he explained, was a tribute to his late uncle who died a few years earlier, and whose ashes were scattered at sea.
A slight man with dark hair and a sly smile, Matisa prepares for the long session by unsealing the paints "Best Ink" gave him, turning on some heavy metal and tuning out the world.
He will stop the tattooing only if the client needs a break. Matisa won't take one for himself, not even to eat.
Asked what he would do with $100,000 if he won, Matisa got a quiet look on his face. "I wouldn't change anything. I'd just get some better things for the shop."
Source: http://www.nj.com/mercer/index.ssf/2013/12/trenton_tattoo_artist_competes_on_best_ink_reality_show.html
---
Comments
No comments yet.