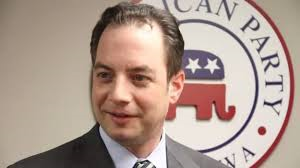 RNC Chair once again offers to tattoo 'ObamaCare' on Democrats' foreheads
Article by:
Fox News
November 21, 2013
Republican National Committee Chairman Reince Priebus has once again offered to tattoo ObamaCare on the foreheads of Democrats up for re-election in 2014.
Priebus made the permanent ink promise Thursday during an interview with Fox News.
"We will tattoo ObamaCare on each of their foreheads so that everyone will know what they stand for," Priebus said. "They are eager to make the 2014 election about ObamaCare and so are we."
Priebus, known for his outspoken comments and growing disdain for the Affordable Care Act, has also accused President Obama of cultivating "a culture of dishonesty, a culture of hatred."
During a Nov. 4 "Hannity" appearance, Priebus said the president "should take ownership over this divisive culture that he has created."
Source: http://www.foxnews.com/politics/2013/11/21/rnc-chair-once-again-offers-to-tattoo-obamacare-on-democrats-foreheads/
---
Comments
No comments yet.