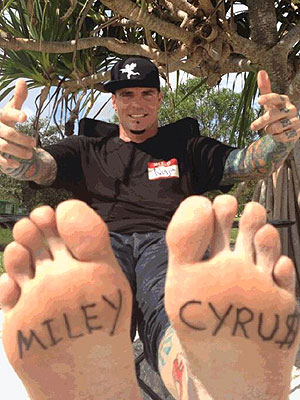 Miley Cyrus Ribs Pregnancy Rumors as Vanilla Ice Flaunts Tribute 'Tattoo'
Article by:
People.com
October 02, 2013
Now here's a juicy rumor that Miley Cyrus just couldn't help but poke fun at.
The Twitterverse went into overdrive this weekend after a report surfaced claiming the Bangerz singer was pregnant with rapper Juicy J's child – this, just two weeks after Cyrus, 20, called off her engagement to Liam Hemsworth, 23.
Apparently, the news took even Cyrus by surprise: On Monday, the singer let loose a pair of cheeky tweets that ribbed the speculation.
"Waking up to the news that I'm now pregnant with @therealjuicyj baby," she wrote.
But the "Wrecking Ball" singer didn't stop there: When a follower prodded her on what she'd name the child, she was happy to play along.
"Me: 'did you know I'm pregnant with @therealjuicyj baby this morning' @CheyneThomas: 'what are you gonna name it?' Me: 'Juicy J Jr DUH,' " she quipped.
Juicy J isn't the only rapper stirring up some Miley chatter these days: Vanilla Ice recently took to Twitter to pay homage to the songbird ... via some snazzy new ink.
The "Ice Ice Baby" crooner posted a snapshot that showed Cyrus's full name on his feet – a clear reference to the "Rolling $tone" tattoo that Cyrus got inked on her own soles.
"WORD TO YOUR MOTHER ! LMAO!" the rapper captioned the pic.
Your move, Miley.
---
Comments
No comments yet.