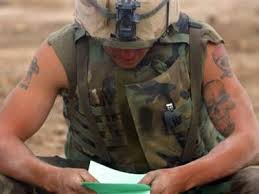 Report: Army set to implement partial tattoo ban
Article by:
NBC News
September 25, 2013
New U.S. Army recruits will not be permitted to sport tattoos below their elbows and knees or above their necklines, according to a new report from a military publication.
The ban, part of broader new rules on grooming and appearance for soldiers, has been approved by Secretary of the Army John McHugh and is awaiting his final signature, Sgt. Maj. of the Army Raymond Chandler told troops at bases in eastern Afghanistan, Stars and Stripes reported on Monday.
Chandler said he expected the changes, which only apply to soldiers because other branches of the military have their own set of regulations concerning looks, to become policy within 30 to 60 days, the military newspaper said.
"We're just waiting for the secretary to sign," Chandler reportedly said on Saturday during a town hall meeting with soldiers from the 4th Combat Brigade Team, 10th Mountain Division, at Forward Operating Base Gamberi in the eastern Afghanistan province of Laghman.
The changes would apply to Army Regulation 670-1 — the Army's policy on appearance — and would require all soldiers to "sit down with their unit leaders and 'self identify' each tattoo," according to Stars and Stripes.
Current soldiers will be allowed to have tattoos that violate the new regulations, but new members will be forced to pay for the removal of any tattoo below the knee or elbow or above the neckline, Chandler said.
Any tattoo that is sexist, racist, or extremist will be barred, as they currently are under the Army's policy.
The Army would not comment on the Stars and Stripes report, other than to confirm it "is conducting final review of the forthcoming uniform policy — Army Regulation 670-1 [the total policy applying to the wear and appearance of the Army uniform] prior to its implementation."
Some soldiers questioned Chandler on the new policy when the announcement was made, Stars and Stripes reported, curious as to whether the Army would ever allow more visible tattoos.
Chandler told the soldiers the Army wanted to maintain a uniform look, and that soldiers should be recognized for their achievements, not for their appearance.
If a soldier had a a curse word tattooed on his neck, for example, "I question, 'Why there? Are you trying to stand out?'" Chandler said, Stars and Stripes reported.
Chandler said officials will be separating many of the specific policies listed in Army Regulation 670-1 and putting them in a separate Department of the Army pamphlet to make them easier for troops to understand, and make future changes clearer.
He also said new Army combat uniforms will likely be phased in eight or nine months from now, featuring different colors for different environments, reported Stars and Stripes. The pattern would not change from what is currently used on uniforms.
---
Comments
No comments yet.