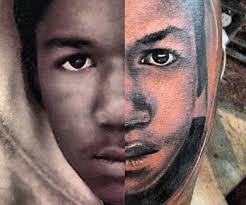 The Game Gets Trayvon Martin Tattoo
Article by:
Huffington Post
August 21, 2013
The Game's latest tattoo is a tribute to Trayvon Martin.
The rapper, also known as Jayceon Tarrell Taylor, got a picture of the slain teen's face added to his leg earlier this week, a copy of a black and white photograph of Martin in a hoodie that has been widely circulated in the media since his death.
Game posted a picture to Instagram on Friday showing the stencil that would be used to create the tat, then posted another showing the final product side by side with the original photo. He said on Instagram that the tattoo took seven hours to complete.
The choice of tattoo is particularly poignant considering that a photo of Game was used in a chain email that circulated during the Zimmerman trial. The writers of the email claimed that the "liberal media" was intentionally trying to paint Trayvon Martin as an innocent kid by using younger photos of him, and included a picture of the rapper with the words "The Real Trayvon Martin." (Martin was 17 at the time of his death; Game was 31 at the time the picture was taken).
---
Comments
Posted By: ToddRedactacle
|
8/21/13 6:53 PM
The game is okay in my book.
Posted By: DerbyFriends
|
8/22/13 6:00 PM
I wonder how that looks in with the other tattoo
Posted By: LoveNYaDownTown
|
8/22/13 5:30 PM
A Trevon tattoo is cool because that Zimmerman should have listened to the 911 operator and kept his ass in the car and this would have never happened