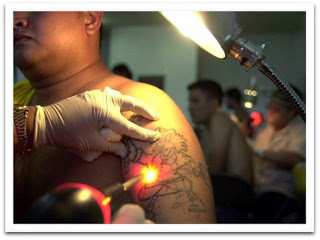 New Jersey Plastic surgeon announces new method for laser tattoo removal
Article by:
Examiner
August 19, 2013
Current laser tattoo removal involves several painful sessions with a nanosecond laser. The laser breaks down the ink into particles that can then be removed by the body. These sessions can take several months and can be extremely uncomfortable. In recent years, alternative methods have been sought for tattoo removal.
Today in a press release from Dr. Evan S. Sorokin of New Jersey, he announced that his practice has developed a new innovative laser. His practice at the Delaware Valley Plastic Surgery has created the PicoSure aesthetic laser. The laser is a picosecond laser, which has several advantages over the current nanosecond laser. The laser breaks the ink down into smaller particles which allows the body to remove the ink more quickly. The laser also causes less discomfort, requires fewer sessions, and has a faster recovery time.
The laser passed FDA clinical trails and has been deemed a safe treatment for tattoo removal. This new advancement in technology will help those that have some regretful ink to remove the tattoos quickly and will less pain.
---
Comments
Posted By: SailorsTats
|
8/19/13 7:41 PM
I wonder if there is anything smaller than a pico.
Posted By: PepsiVengence
|
8/19/13 8:34 PM
I can't wait to try that new technology, I have some work that needs to be gone.