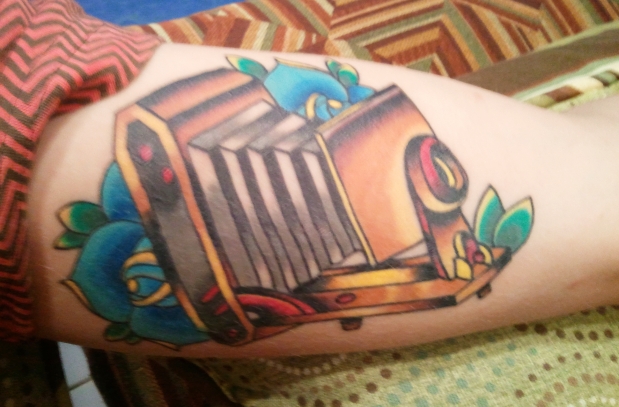 Tattoos: Think before you get inked or you may regret it later
Article by:
Ottawacitizen
August 09, 2013
OTTAWA — My oldest son Owen's first tattoo — a vintage camera — was unveiled in early June on a hot afternoon, just a few days after his 21st birthday. Owen was wearing a muscle shirt partly due to the heat, but the sleeveless top made it easy to flaunt the new tat on the inside of his left bicep.
Since he was 16, my artsy, guitar-playing, songwriting son made no secret that one day he'd get a tattoo. But having hundreds of needle pricks to shoot coloured ink into your skin isn't for the faint of heart. I never thought he would go through with it.
My four sons all know I'm not a fan of "body art" for all the obvious reasons: They're permanent, gaudy and well, permanent.
Let's be honest: What may look cool on a 20-something's arm, leg, even neck, will look ridiculous on a middle-aged man with a paunch and receding hairline.
But it seems everywhere you look these days, bigger, bolder tattoos are being inked across the limbs, torsos and hairy backs of people of all ages.
At this year's Bluesfest, finding someone in the crowd without a full-sleeve tat was like a game of Where is Waldo.
Call me a prude, but I just don't understand the appeal. If you're a fan of exotic animals, vibrant flowers or satanic skull and crossbones, paint a picture and hang it on your wall. Don't use your body as a blank canvas.
I've lost count of how many times Owen has changed his mind about everything from fashion to food. There's nothing wrong with being fickle, but now he wants to cover both his arms — he draws the line at his neck and face — with quirky cartoons, vibrant florals and creepy creatures. Are you kidding me?
I'll admit the vintage camera is fitting, since he's studying photography and is passionate about taking pictures. But in a few short months, one tat has morphed into four. He now has a black panther sitting on his shoulder next to a bouquet of purple pansies, a giant eyeball framed in a diamond and two pennies to commemorate the end of the Canadian currency. Oh, brother.
Thankfully, he's run out of cash — for now — but there's no doubt more tattoos are in his future.
I just wish he'd heed my advice: Less is more. Take your time. No more tattoos — PLEASE!
Don't get me wrong: I'm all for self-expression and creativity, but I can't help worrying: Will he regret filling his skin with ink five, 10 or 20 years down the road?
And I don't even want to know how much he's shelled out so far on his arm art. As a full-time collegestudent living in a one-bedroom apartment, I think his cash should be going to books, rent and groceries — not tats.
StickerYou.com gives tattoo fans a chance to try out a custom design before committing to it forever. The Canadian online company sells quality temporary tattoos from $9.99. Affordable, painless and they rub off with a little baby oil. Now that's my kind of body art.
---
Comments
Posted By: MertylesTurtles
|
8/09/13 6:17 PM
If he likes it when hes older that's great, if not he can always do a cover up tattoo or have it taken off via laser.
Posted By: LookOutWeekend
|
8/09/13 6:43 PM
I personally don't much care for the camera, but If he loves it, that's all that matters.