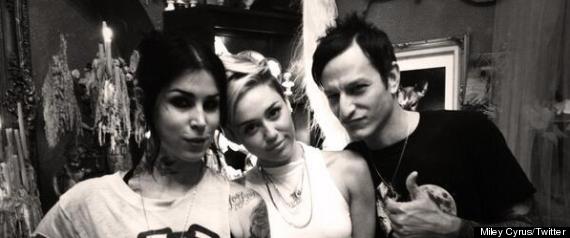 Miley Cyrus Gets Yet Another Tattoo From Kat Von D
Article by:
Huffington Post
August 07, 2013
Miley Cyrus has added more ink to the canvas that is her body.
On Sunday, the 20-year-old singer was spotted leaving celebrity tattoo artist Kat Von D's shop in West Hollywood with a black bandage taped to her upper arm.
No word on what the "We Can't Stop" singer had etched on herself this time, but she's already got a decent-sized collection of tats.
Though Cyrus has yet to unveil her new tat, we have a good idea of what it might look like since Kat inked the singer with two arrows on her elbow in January, and a miniature rendition of Leonardo da Vinci's anatomical heart on her forearm in March.
---
Comments
Posted By: TattooTed
|
8/07/13 7:48 PM
My guess is a unicorn or a cupcake.
Posted By: SlinginPinkies
|
8/08/13 6:19 PM
Please be a stupid, stupid tat, so we can have some fun, making fun of it.
Posted By: BadCompany0
|
8/07/13 8:18 PM
I hope it's something cool, not some typical BS tattoo like everyone else has... boring.