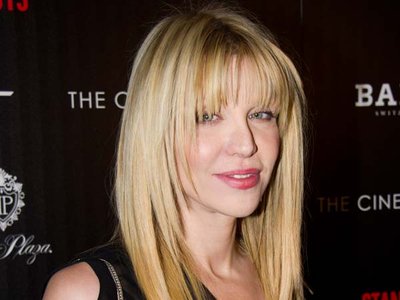 Courtney Love talks tattoos, Rolling Stones, TV and Philly memories
Article by:
Philly.com
August 05, 2013
Courtney Love is really excited about her up-coming tour and working title album, Died Blonde. She wants the world to know that she's stepping out for all to see, not as Hole–her much-celebrated '90s rock band–but just as herself. We had the chance to talk with Courtney for about ten minutes over the phone–which is not nearly enough time to talk to someone of her nature. - "Of course she decided to leave the band, that's not news!" exclaimed Courtney Love when she visited the Philly.com homepage on Friday.
She was, of course, talking about one of the biggest music headlines of the day: Kim Deal, founding member and bassist of the Pixies, had announced her official exit from the band. "If anyone ever suggests that I do something with [them], I recommend that they go watch that Pixies documentary her and her sister made. It's just pure misery on wheels. I have no desire!" It quickly jumped to the topic of ticket prices for the up-coming Rolling Stones tour, which are going for around $600 a pop. "Do they take how old they are, put in a jar, add it up and then divide it by something? Or maybe it's 600 years of experience," she laughs. Similarly, Love has a tattoo of a Rolling Stones song on her arm that says "Let It Bleed." Did it have anything to do with the Stones' song? "No. I have to justify the tattoo. The song's horrible and I know it. I absolutely loved the title [on] that [specific] night and I got a tattoo because I was in all sorts of psychic pain. I did it for the reasons that you are supposed to get a tattoo; which is you are really just sobbing and you need to feel some pain."
It's been rumored that in addition to her forthcoming album, Courtney is making her TV debut. Sources were claiming that she was a contender for an American Idol judge spot. "I never said that! I am doing something on television and I'm doing it in the fall and, um, I can't tell you what it is. You're just gonna have to wait." As far as fondest memories in Philly, she doesn't have too many. "I'm not connected to Philadelphia in anyway. I've never dated anyone from there. I've never gone to school there. I never traveled there on my adventures as a kid." She did remember having sex with someone, somewhere in a hotel room, but she refused to tell me where. But, she admits, "Sometimes what I remember isn't really that relevant." "I remember a place called the Khyber," an establishment she has a touring history with–having played with Boston alt-rockers, The Lemonheads, among others. The late music venue, bar and club has now been transformed into the Khyber Pub Pass restaurant.
As far as what fans can expect from the new album, Love says she's not straying far from her roots: "Same old s**t. Sex, death, love, hate, the state of the economy." Courtney Love is kicking off her tour at the TLA this Thursday, June 20th. Tickets are available.
Read more at: http://www.philly.com/philly/blogs/entertainment/music_nightlife/Courtney-Love-talks-tattoos-Rolling-Stones-TV-Philly.html#Z70I4LUqbkDVVoUZ.99
---
Comments
Posted By: OneMomentInTime
|
8/05/13 7:36 PM
I really would have liked to have seen hole tour, but I'd bet she puts on a good show.
Posted By: RepresentUs64
|
8/06/13 4:24 PM
I would like to see her on American Idol. She would bring some needed change over there! I bet some good fights would pop-off too.
Posted By: empowerME23
|
8/06/13 6:43 PM
She still looks decent for her age. I wouldn't kick her out of bed for eat'n crackers, if ya know what I mean!