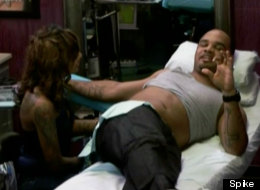 'Tattoo Nightmares': Cheating Nearly Cost A Man His Life When His Girlfriend Ran Him Over
Article by:
Huffington Post
July 31, 2013
One client on "Tattoo Nightmares" made a lifetime commitment to winning back his ex-girlfriend, but things did not work out so well for him. Kaydo came in to get his ex-girlfriend's initials removed from his rib cage. After getting caught cheating, he'd tried to prove his commitment to her by getting this tattoo.
But when he went to show it to her at a night club, she didn't respond in the way he'd hoped. She told him she hated him, struck him with a bottle and then she struck him with her car. That's right, she ran him over with her car!
Tattoo artist Jasmine Rodriguez was stunned. "She tried to KILL you!" she marveled.
"Torn ligaments in the knee. Fingers didn't land right," Kaydo told her.
"She wanted to make you hurt as much as she was hurting," Jasmine said. Kaydo agreed, and told Jasmine that he'd learned his lesson.
"I am no longer a cheater," he said. "A woman's scorn."
Jasmine said it was a good thing he learned his lesson, because she doesn't do cover-ups for cheaters. For Kaydo, though, she turned his ex's initials into a very cool anchor design.
It looks like more tattoo cover-up stories are coming to television. A&E is set to join the growing trend with their own "Tattoo Nightmares"-like show called "Bad Ink," premiering in August. For now, fans can look forward to more wild stories on "Tattoo Nightmares," Tuesdays at 10 p.m. ET on Spike.
---
Comments
Posted By: YamahaJohn
|
7/31/13 8:04 PM
I hope he put her behind bars, she's dangerous. If a man did that to a woman, the police would have been involved immediately.
Posted By: RadarsOnYa
|
7/31/13 8:17 PM
Dude is lucky that girl didn't accidentally kill him. I hope he never contacts her again for his sake.
Posted By: LittleBirdieD
|
8/01/13 4:21 PM
I'd say that 's an accurate statement.