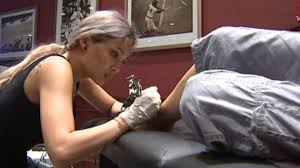 Tattoo artist surpasses world record
Article by:
cbc.ca
July 29, 2013
An Edmonton tattoo artist says she has surpassed the world record for inking the most tattoos within a 24-hour period
Dianne Lopez wanted to break the Guinness World Record of 801 as well as raise funds for the Edmonton Humane Society. She started her attempt at Duke's Bar and Grill in north Edmonton at noon on Saturday and finished at noon today.
Lopez was able to complete between 811 and 815 tattoos, short of the 1,000 she set as her goal, but enough to break the world record.
"Really exhausted but excited at the same time," she said.
"That was the whole point, just to challenge myself, see if I'm able to do it and we raised a lot of money for the humane society, so that's the best part."
For a minimum donation of $20, Lopez gave each person a tattoo of a dog paw mark or an infinity symbol.
In order to qualify for the world record, she had to ink tattoos of a certain size with a bit of shading.
Click on the image to see more about her attempt in a report from the CBC's Travis McEwan.
---
Comments
Posted By: ForeverMine
|
7/29/13 7:27 PM
I sure would like to see an example of what that quick tattoo looks like.
Posted By: DepoickChopps
|
7/30/13 6:34 PM
With that many tats I'm sure quality control wasn't the main issue.
Posted By: beingmealways
|
7/30/13 10:30 AM
Awww. what a great cause! I would have gladly paid for two of them and received a paw and infinity design. This is so awesome when artist use their talents for other causes. Sure, she wanted to be a world record breaker, but she also allowed the money she raised to go to such a great cause! Good for her!!