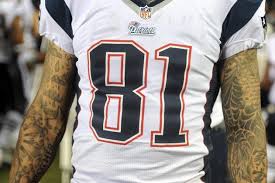 NFL teams could hire tattoo experts
Article by:
msn.foxsports.com/
July 24, 2013
Tattoos are about as common in NFL locker rooms as jock straps and four-letter words, but one "longtime NFL personnel man" thinks ink will get more attention from the league going forward.
According to CBS' Bruce Feldman, NFL teams may start using police experts to inspect prospects' tattoos in the wake of the Aaron Hernandez ordeal. When the former Patriots tight end was arrested, law enforcement inspected his tattoos to see if he had any gang ties. Reports indicated that Hernandez may have been involved in the Bristol Bloods street gang due to a red "Blood" tattoo found on his right hand. The tight end reportedly denied any involvement in street gangs.
Hernandez, charged with the murder of Odin L. Lloyd in Massachusetts, has sparked a lot of chatter about his possible gang background, including a high school photo of Hernandez throwing gang signs while dressed in Bloods red, which either shows he was a gang member back then or was being a high school kid and posing for an inappropriate photo.
A gang expert who spoke to the Boston Herald said Hernandez could well have a target tattooed on him.
"Hernandez could be a very appealing target for someone who wants to make a reputation for himself," said Jorja Leap, adjunct professor of social welfare at UCLA. "The sheriff needs to be extra careful with someone like Hernandez."
Looking back, an old interview with Hernandez could prove to be prophetic. Asked about some of his ink, in particular one on his forearm that reads: "If it is to be it is up to me," Hernandez said. "Whatever I want my life to be, it's up to me. ... The life I want to live is all in my hands."
Meanwhile, Geraldo Rivera, appearing on FOX News Channel recently, picked up the gang angle on Hernandez's alleged crime.
That, in turn, led commentator Rush Limbaugh to pick up on Rivera's comments on his radio show. Limbaugh recalled how he once said this about the league: "The NFL all too often looks like a game between the Bloods and Crips without any weapons."
---
Comments
Posted By: bodycanvas
|
7/24/13 2:23 PM
In my opinion, this would be a form of racial profiling, would it not? If we decipher and pick apart every tattoo, you may be withholding someone who was not, or who once was but no longer is, someone who may have had trouble in their past. If they are going to start deciphering tattoos, then they need to start doing back ground checks, looking into domestic violence, rape, and assault. I understand where they are coming from, but we can't say that a certain tattoo is or was in direct relationship to gang violence.
Posted By: ShocksNSocks
|
7/24/13 5:32 PM
Rush Limbaugh is such a d*ck.
Posted By: ShocksNSocks
|
7/24/13 7:36 PM
I'd love to see the video of the first draft pick being examined like a lab rat ... so lame.