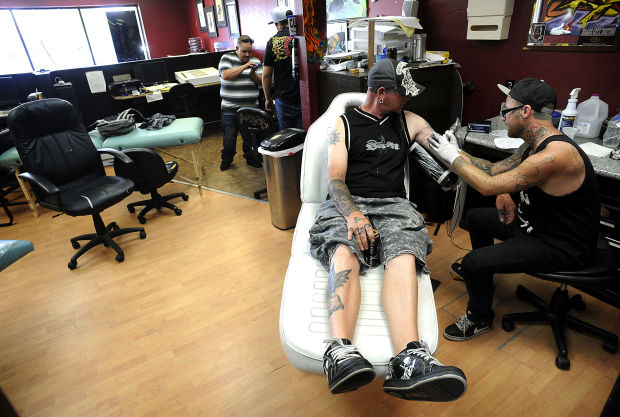 Provo tattoo artist builds family, one tattoo at a time
Article by:
Heraldextra.com
July 22, 2013
Buzzing tattoo machine in hand, Marcus Judd leans in close and continues to carefully trace the lines of a stencil on apprentice Justin Kautz's arm. Kautz watches intently to observe Judd's work. After nine years of hard work, Judd has become an accomplished tattoo artist in the valley and is in a position to help beginner artists learn proper tattooing techniques. Although, Judd doesn't quite see it like that.
"I don't think I've worked a day in my life since I've started," said Judd, explaining that tattooing doesn't feel like work. "I just come here and have fun."
That makes sense, considering that Judd has always wanted to be a professional artist. The Provo native started off as a piercer after high school but eventually worked his way up to becoming a tattoo apprentice under Ernest Dick, owner of Death or Glory Tattoo. As a result of continually challenging himself, Judd is now a full-time artist at Death or Glory and has built up a large clientele base.
"My mentality is now more based on bringing my style to the table and really pushing to make sure my style is changing with the time," Judd said.
This includes practicing on himself.
"I always use myself as a guinea pig for anything new that I'm trying," said Judd. "I just want people to feel comfortable coming to me with anything."
His dedication has not gone unnoticed.
"I think he's definitely coming into his own," Dick said. Many tattoo artists fail to develop an original style, Dick said, but Judd is doing a good job of avoiding that trap. "I can't wait to see what he does in five years because I think he'll surpass anyone around here."
Client Dacey Barnes came to Judd for his skill in color work.
"I feel that he's a good artist to work with for sure," Barnes said. "He's very talented."
Art aside, Judd says that he appreciates the opportunity to interact with clients during tattoo sessions. Sitting together for several hours at a time lends itself to great conversations.
"If I wasn't a tattoo artist I'd probably be a therapist," Judd said smiling. "I learn so much from other people's experiences."
As a result, Judd has a close relationship with a lot of his clients.
"Everyone we tattoo at our shop is family," Judd said. "I love my clientele."
Over the years, Judd has noticed that the demand for tattoos is on the rise in Utah County. Judd suspects that changing attitudes towards tattoos, along with improved technology, has caused the spike in popularity.
"It's becoming a lot more tolerated," said Judd. "I think all body modifications are a confidence booster. People wouldn't get body modifications unless it made them more comfortable in the skin they're in."
The tattoo boom also means an increase in fellow artists.
"I'm glad that it's becoming more of a norm for a lot of different people to get tattoos and stuff like that because it's just bringing that many more people together and into our industry," Judd said. "There's so many up and coming amazing artists."
Judd says that one day he would like to open his own tattoo shop. Until that day, he can be found at Death or Glory Tattoo in Provo helping fulfill Utah's demand for high-quality tattoo art.
---
Comments
Posted By: TeachiePreachie
|
7/22/13 4:12 PM
I'm glad there is a boom in the industry.
Posted By: GomersPile
|
7/23/13 8:13 PM
Very nice that the guy is giving back and helping young artists learn proper tattooing techniques.
Posted By: TwistedTony
|
7/23/13 8:40 PM
I didn't think the Utah tattoo scene was that big, but it looks like it's growing.
Posted By: bodycanvas
|
7/24/13 2:17 PM
very cool. I wish some of these artist would come together to create a school for people to attend and learn proper technique. Its cool to apprentice, but there is only so much they can teach you. You must attend school for just about any profession, especially one that deals with blood born pathogen, and then you must be state certified. Might have to pay Judd a visit in Utah.