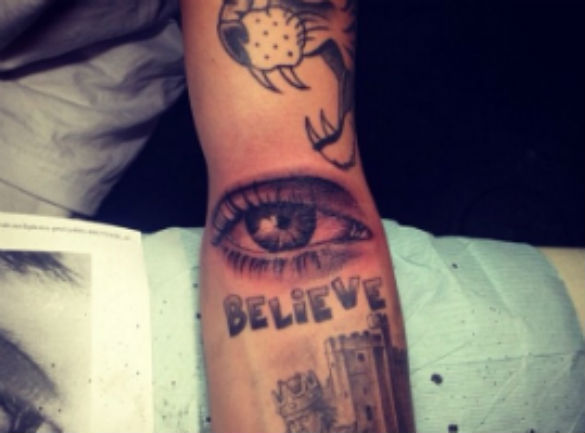 Justin Bieber Shows Off Massive New Tattoo Dedicated To Beloved Mum Pattie
Article by:
Entertainmentwise.com
July 18, 2013
Teen star Justin Bieber has added another tattoo to his growing collection, but according to the singer this one's a little different – because it's dedicated to his beloved mum, Pattie Lynn Mallette.
The 19-year-old unveiled his latest inking via Instagram on Wednesday (July 17) after going under the needle at celebrated New York tattoo parlour Bang Bang Tattoos – whose previous clients have included Rihanna, Adele and Cara Delevingne.
His new design shows a large eye etched into the crook of his arm – a reference to his protective mum,who raised him as a lone parent in his native Canada before he found fame.
"@bangbangnyc did this art., Moms always watching ;,' read the accompanying message.
Justin's new tattoo was completed the day after he was snapped showing off his blossoming pecs during a lads day out on a pal's boat. Manager Scooet Braun – who joined Justin for the trip – later posted pictures of the group on Twitter.
"U ain't messing with my clique." he tweeted with one of the pictures, in which the party are seen laughing and joking aboard the small boat.
Elsewhere his mum confessed her son was getting a bad rep following months of negative headlines.
"I definitely think he's getting a bad rap, but I'm also not naïve to think that my child is perfect and making all the best decisions of his life," she said during an appearance on US show Watch What Happens Live.
"He knows what I disagree with, and he knows all the things that I'm really proud of him for, too."
---
Comments
Posted By: BigMouthBetty
|
7/18/13 4:34 PM
That's actually pretty cool.
Posted By: LooksLikeadude
|
7/18/13 6:49 PM
The biebs get more ink... Good, bye the time he's 30 it will be on.
Posted By: SnarkyKidZZ
|
7/19/13 4:52 PM
I like the little cat on his arm.
Posted By: mylifemylife
|
7/19/13 8:15 PM
I like this, a lot better than the other stuff he was randomly getting.