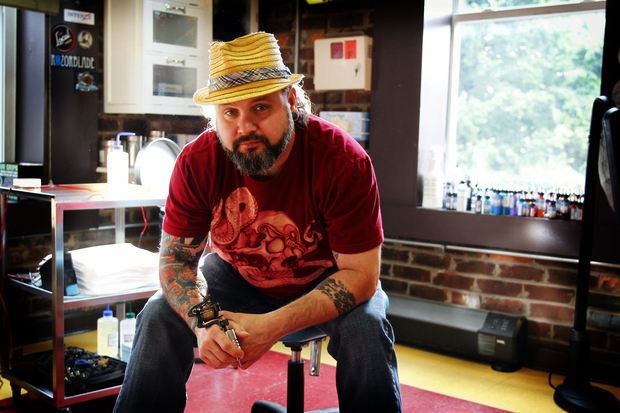 If you have tattoo regret, this contest is for you
Article by:
Kentucky.com
July 16, 2013
Tattoo artist Tommy Ray Cornett has seen plenty of bad ink and knows the most frequent mistake all too well.
"Ohhhhh," said the owner of Lexington's Bleed Blue Tattoo. "It's names.
"It's 'the curse.' That's what we call it," he said. "If the name you're getting tattooed is not a blood relative, it's wise not to do it."
Even then, he said, families sometimes feud.
But whether someone has 'the curse' tattooed on him or her, or is burdened with a Chinese symbol that means soup instead of super, bad tattoos are big business. About half of Cornett's customers come in to get a tattoo fixed or covered, he said.
That level of regret led Cornett to join with Lexington's Cosmetic Surgery Center to have a "Worst Tattoo" contest. Through Aug. 5, anyone can submit a picture of the poor choice along with a brief description of why he or she want the ink removed or transformed. The winner can choose between complete laser removal or laser lightening of the tattoo and a new cover-up art by Cornett.
People can come by Bleed Blue Tattoo from 6 to 9 p.m. July 17 to get pictures taken and fill out applications. They can also enter online at Kentuckydermatology.com/cosmetic.
"We typically don't market to the piercing and tattoo crowd," said Crystal King, marking director for the surgery center. But the contest is "a great way to unite our two industries," she said.
The center had done tattoo removal years ago but got out of the business, King said. Previous efforts always left a scar, she said. Old laser technology essentially burned off the color, she said.
The latest laser technology, however, loosens the pigment in the skin and allows it to be absorbed into the body, she said. The center started the new laser treatments earlier this year.
There is no true average, but completely removing a tattoo can generally require between 3 and 10 laser treatments, she said. The darkness of the tattoo and the size are factors in determining how many visits are needed, she said. The most difficult case she is aware of required 23 treatments.
Cornett brought to the center's attention that a few laser treatments can lighten an old tattoo enough to make creating a new design much easier. A good cover-up, he said, is an optical illusion, and the lighter the old tattoo, the easier to trick the eye.
Cornett is receiving laser treatments on one of his own tattoos to better understand the process.
"I am the sacrificial lamb," he said with a laugh.
A panel including Cornett and King will pick the worst tattoo. King said "worst" doesn't mean "ugliest." It might be, she said, that the artwork is bad or crooked. It might also be 'the curse.'
"When people are submitting their picture, they have the opportunity to tell us what it is, why they got it and why they want it removed," she said. "The worst can mean a lot of different things."
HOW TO ENTER
Enter the Worst Tattoo contest by going to Big Blue Tattoo, 527 S. Upper St., from 6 to 9 p.m. July 19.
You can also enter online at Kentuckydermatology.com/cosmetic, or you can stop by either Big Blue Tattoo or the Cosmetic Surgery Center, 177 Burt Road.
Read more here: http://www.kentucky.com/2013/07/15/2715336/if-you-have-tattoo-regret-this.html#storylink=cpy
---
Comments
Posted By: inkkednproud
|
7/16/13 3:12 PM
This is really a good way for the two industries to come together. It is really a good service they are offering for some unlucky person! Good luck to all that applies!
Posted By: GilbertGotts45
|
7/16/13 6:58 PM
To bad all the people in the WTF category (on this site) can't be mailed a link to this article because we would have some major competition going on here.
Posted By: Over2Gayles
|
7/17/13 7:00 PM
Ha-ha, that is so true. I just saw a tat of a Rat on a Grandmas face. Nice.
Posted By: StanleyCapKid
|
7/19/13 5:18 PM
Regrets "I have plenty"
Posted By: mylifemylife
|
7/19/13 8:12 PM
This is cool! Wish I lived in Kentucky!