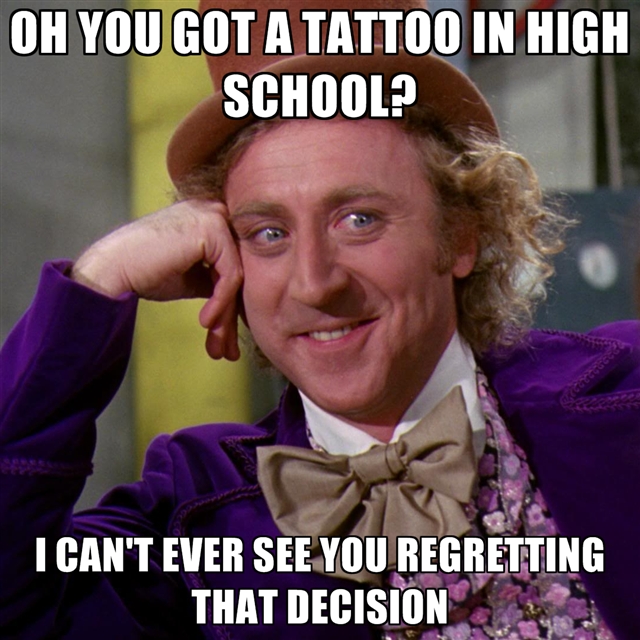 Tattoo or No Tattoo? That Is the Question
Article by:
Psychology Today
July 03, 2013
Ten minutes into the Run for the Zoo 10K in Chicago on Sunday, June 2, I glanced down and something caught my eye. Something I, and pretty much anyone else who grew up near or in Chicago, had seen thousands of times before. It was a Chicago Cubs logo. The size of a silver dollar and tattooed in the middle of the left calf of the runner in front of me. For a good quarter mile, my eyes kept darting back to the blue circle and the red "CUBS" letters it surrounded. It seemed like such an odd place to show support for the North Siders. For someone who will likely never get a tattoo, I had so many questions racing through my head: "Did that hurt?" "Did you lose a bet?" "Was this a drunken mistake?" "Couldn't you just show your Cubs loyalty with a hat, T-shirt or something, I don't know, a little less permanent?"
I figured Mile 2 probably wasn't the best place to strike up a conversation with him, so I waited until after the race to find some answers.
"There are a couple motivations why people get tattoos," said Dr. Christian End, associate professor of psychology at Xavier University. "Fans often tend to really value loyalty, so getting a tattoo – which is rather permanent – is something that other sports fans would see and think this person is a loyal fan.
"It's called 'optimal distinctiveness theory,'" he added. "The theory predicts that when groups get too saturated, you go to some lengths to say 'yes, I'm a part of that group, but at the same time I'm also an individual. There is something distinct about me.' Particularly with successful teams, there are a lot of people that bask in the glory of the team publicly and show their affiliation by wearing that team's apparel. However, there are those that avoid putting on the hat following a loss. One way loyal, diehard fans can communicate to the world that they won't take off the hat when their team has an unsuccessful season is to get a tattoo that tells people that 'I'm a loyal fan. Don't group me in with everyone on the bandwagon.'"
That being said, following a trend is another reason sports fans get inked up. Next time you're watching pretty much any professional or college sporting event, chances are you're going to spot some artwork. On the arm, leg, neck, shoulder, calf, hand, you name it. And it's not just men – see WNBA rookie Brittany Griner – or players – see Louisville men's basketball coach Rick Pitino – that are transforming their bodies into canvasses.
"In general, tattoos are becoming more acceptable," Dr. End said, "and the popularity of tattoos with athletes is a reason why. People are modeling this behavior."
Kelli Flahaven, 25, had a different motivation for walking into a tattoo parlor six years ago while on summer break following her freshman year at Illinois Wesleyan. Three years earlier, Flahaven visited her brother, Jeremy, who was living in Chicago, and they went to their first Cubs game together. The hat he wore that day was adorned with the same Cubs logo I saw on the runner's leg, yet it also had a baby cub embracing it and waving with his right paw. As a way to remember this trip to Wrigley Field with her brother, Flahaven decided to get that same logo tattooed on top of her left foot.
"I figured that it would be the best place to put it," she said, adding that her mother – a St. Louis Cardinals fan – was ok with the decision since it was her body. "It would be easier to cover for jobs and things like that."
I sensed a bit of regret.
"No, not at all," Flahaven said. "I've had a lot of people say, 'When you get married you know it's still going to be there?' That's right – it will be there. And I'm glad it is. If you're questioning why I did what I did, you obviously don't know me very well."
Chances are I'll never cross paths with that runner again, or ever find out what caused him to get that Cubs tattoo, but now I can think of a few reasons why he did.
---
Comments
Posted By: BetterTans
|
7/03/13 5:31 PM
My motivation was that of a drunken fool. Getting an exes name on my private parts was the worst decision of my life.
Posted By: PlainsTrainsAnd
|
7/03/13 6:09 PM
I have not regrets - only killer ink-spots.
Posted By: serenade
|
7/03/13 10:07 PM
This is really a great article!! really nice!