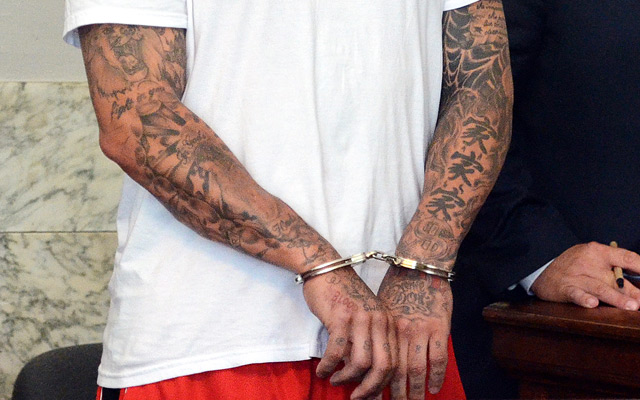 Officials examining Aaron Hernandez's tattoos for gang ties
Article by:
CBS Sports
June 28, 2013
On Thursday, former Patriots tight end Aaron Hernandez was denied bail after being charged with first-degree murder in the shooting death of Odin Lloyd the day before. This means Hernandez will remain behind bars until his case goes to trial.
In the meantime, authorities are examining Hernandez's many tattoos for symbols that might suggest a link to gangs.
"We'll be looking at his tattoos to see if there are any symbols that affiliate with gangs," Bristol County Sheriff Thomas Hodgson said via the Boston Herald. "We have to always be vigilant around security and not place him somewhere where there are rival gang members."
Jorja Leap, an adjunct professor of social welfare at UCLA who is also an expert on Los Angeles gangs, told the Herald that the former Patriots tight end could be in danger if he does have gang ink.
"Hernandez could be a very appealing target for someone who wants to make a reputation for himself. The sheriff needs to be extra careful with someone like Hernandez."
Leap says she's studied the tattoos on Hernandez's arms and they appear decorative, but the tattoos she hasn't seen may be different.
Seventy-two hours ago, Hernandez was a free man, a year removed from a new $40 million contract extension with the Patriots, and living in a sprawling home in upscale North Attleboro, Mass. Now he's facing a murder charge and if convicted, could spend the rest of his life behind bars.
Not surprisingly, Hodgson says Hernandez is undergoing "an adjustment" to being confined to a 7-by-10-foot cell.
---
Comments
Posted By: Beaumontsis
|
6/28/13 3:24 PM
I don't think "an adjustment" does what's happening justice. He's hating life right now. I'm curious to see if he is going to be convicted or not.
Posted By: Esaier2handle
|
6/28/13 4:14 PM
It doesn't look like gang stuff as far as I see.
Posted By: serenade
|
7/03/13 10:02 PM
I don't think he has ties to gangs. I think he is just a complete idiot.