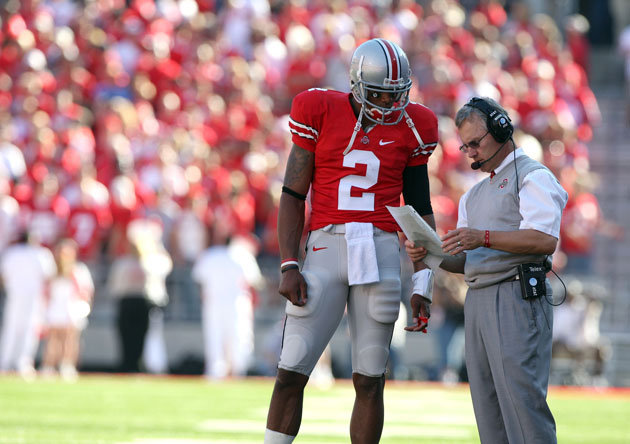 Rings allegedly linked to Ohio State tattoo scandal sold on eBay
Article by:
Yahoo Sports
June 10, 2013
Memorabilia from the 2011 scandal that cost coach Jim Tressel his job, quarterback Terrelle Pryor his eligibility and Ohio State a shot at the national championship was allegedly up for auction on eBay this weekend.
Spotted by Luke Zimmerman at Land-Grant Holy Land, Big Ten and Sugar Bowl championship rings originally belonging to Pryor, DeVier Posey, Mike Adams, Jermil Martin and Solomon Thomas were sold on eBay by an account named finelineinkusa2010. That is either someone's attempt at a joke or a pretty odd coincidence considering Edward Rife – the man who exchanged tattoos and cash for Buckeye memorabilia – was the owner of Fine Link Ink Tattoos. Rife was later sentenced to three years in prison for drug trafficking and money laundering. (It is possible to change your eBay profile name.)
Some Ohio State fans noticed a Craigslist post back in May that claimed someone was selling the merchandise involved in the tattoo scandal. It's unknown whether the eBay seller was actually Fife or someone he sold the rings to before starting his prison term. The auctions have ended, with the ring that allegedly belonged to Pryor selling for $18,100.
The fallout from the scandal forced the resignation of Tressel, caused Pryor to head to the NFL (although he was forced to serve the NCAA suspension there) and resulted in a one-year postseason ban that meant Urban Meyer's 12-0 team last season wasn't eligible for the Big Ten or BCS title.
---
Comments
Posted By: mUSICnMe
|
6/11/13 5:29 PM
I'd but the rings for 1k each. Replay back for offer. ;)
Posted By: mizceedub
|
6/11/13 8:10 PM
Oh wow. This is crazy! I didn't really hear this whole story the first time, but just this small clip is enough to have me shaking my head in disbelief. Wow...
Posted By: Slinger456
|
6/11/13 9:37 PM
This happens all the time.