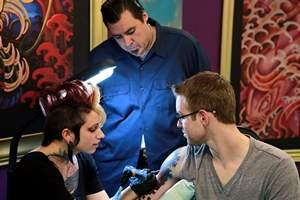 Fort Wayne tattoo artist Teresa Sharpe in finals of 'Best Ink 2'
Article by:
Sentinel
June 04, 2013
Fort Wayne tattoo artist Teresa Sharpe in finals of 'Best Ink 2'
Here at SlingerVille, we love Teresa Sharpe from Oxygen's Best Ink 2. Teresa is an amazing artist who has worked hard to get to where she is at now and we are rooting for her to win the competition!
Click here to read about Teresa Sharpe!
The Studio 13 Creative Skin Design artist has made it in the finals and News Sentinel has created a recap of her journey on the show thus far:
Here's a look back at her road to possible victory in which we learn with each episode a little more about Sharpe.
Episode 1:
Sharpe joins 11 other tattoo artists in a "Flash Challenge," a quick art competition held before each tattooing test. The artists are hoisted along a wall to spray-paint grafitti-style their images. Sharpe captures her orange-blond mohawk and shows her great skill at art, landing her in the top 2. However, Melvin takes the prize. For the ink challenge, she creates a colorful bearded lady with octopus tentacles. She lands in the top 3.
Episode 2
Guest judge singer-songwriter-actor-record producer Ray J looks over the Flash Challenge tattoos – two stories in one through the use of glow-in-the-dark paint. Sharpe's beauty, who reveals a Day of the Dead look under black light ,earns her a close runner-up – but Jerod goes for the emotion and wins the $1,500 prize. The artists then must create hidden images that show up in black light.
Episode 3
A pair of family members want to create a bond through tattoos. So the artists are paired up. Sharpe joins Alli, of Austin, Texas, mixing Sharpe's black/gray skills with Alli's colorful potential, for a pair of sisters who wanted to commemorate their father's death. The artists create a missing puzzle-piece theme. Sharpe ends up in the top 3 with judge and tattoo artist Hannah Aitchison, known to some tattoo fans from Kat Von D's reality show, "LA Ink," gushing over Sharpe's work, saying the technical work is great. "It's just gorgeous," Aitchison said. Sharpe wins, giving her immunity from the next elimination and the chance to judge who should be in the bottom three.
Episode 4
A fellow contestant is a bit jealous of Sharpe's and DJ's speed in the Flash Challenge: drawing on white Stratocaster Fenders for host Pete Wentz, also the bassist for Fall Out Boy, and tattooed model/entrepreneur Sabine Kelley. Sharpe describes her method to the camera: "Every time I come into a Flash Challenge I do take it seriously. I immediately start coming up with strageties. 'I like this motif.' 'This could fit a guitar shape.' Because it's cash money."
Sharpe creates a female figure with flowing hair and describes how she loves ravens and crows because they have different meanings in various cultures. That seems to reflect the huge black wings tattooed in a folded position on her chest. However, Wentz points out her mistake of having the bird hang upside down on her guitar for a right-hander. "The bird's dead," he said. Dollarz takes the prize.
Next they must create tattoos that reflect their skins' love of music. Unfortunately, her skin gives her little to go on despite being a DJ who has survived an abusive relationship. "I have very little imagery to go by," Sharpe said. She worries the record and flowers, an organic element, won't go over, but time is ticking. The final work includes an abstract eye in blues and greens. Aitchison says, "Technically, I think this is rock-fricken solid. It's gorgeous." Sharpe ends up in the top three with DJ the winner.
Episode 5
The Flash Challenge deals with caricatures of a partner artist. Sharpe is paired with Jerod. "Jerod is this intellectual, mature guy," so it's going to be a challenge, Sharpe said. She creates the balding figure carrying a pink umbrella with a sign, "Paris, Mo., population 5," a reference to Jerod's hometown. With her mohawk, Jerod has the easier job. Sharpe doesn't make the top two. For the tattoo challenge, head judge Joe Capobianco said, "I want to see something that brings a smile to my face." Sharpe gets Evan, a woman with fibromyalgia, a chronic pain disorder, and creates a measuring spoons design to reflect the saying of people with the disorder that their energy for each task is measured in spoonfuls. "I can't knock it technically, it's perfect," Aitchison said. Sharpe wins and feels the bull's eye on her back from another contestant, making her want to show that she really is a good artist.
Episode 6
The artist must pain the fuselage of a plane. Sharpe creates "Lucy," a reference to her grandmother's and her middle name. Aitchison says she can tell Sharpe likes pinups but the image is a little constricted. Jerod takes the prize. The artists now must do Capobianco's signature style: blood puddin, involving sexy female figures with crazy-colored skins in blues and greens. Sharpe gets Lola who has lost her father. Sharpe shares that at 19 she also lost her father, who was the family's sole provider. Lola loves her buxom pirate tattoo and Sharpe gets praise from Aitchison on her solid color saturation and line work, but says it didn't fit the challenge. Sharpe still gets in the top three.
Episode 7
The artists use animation technology on their tattoos.
Episode 8
The artists see a fast and furious action scene that they must turn into photo-realistic drawings. For the tattoo challenge, Sharpe gets Grey, who grew up a Jehovah's Witness but left home to travel and wanted a tattoo to reflect her spiritual journey. Sharpe and the other artists worry that they won't see the photos the skins will present – the basis of each tattoo – until the next day, and she has reason to fret. Her skin presents her with a crumbling gray Cambodian temple god head in shadow. Sharpe decides to add colorful flowers – not seen in that photo. And she's called out for it by the judges. But she said, "I think it's even better than what I thought it would" and tells the judges, "It's me putting more into it." Jerod is the winner and has the option of booting one of the strong artists – Sharpe or DJ – and "Cut off a head of this two-headed dragon." But he wants to face top artists and he puts Alli and Brittany in the bottom.
Episode 9
Alli survives with Sharpe, DJ and Jarod to create photo-realistic baby portraits that they then tattoo on the parents. For the big tattoo challenge, they must face off with another artist and each gets get a loved one for their skin with Sharpe's boyfriend of 11 years, Chris, who has never been tattooed, coming in. "My boyfriend doesn't really like life tattoos," she said. The tattoo must portray their relationship. Sharpe, who describes having been through so much in life with Chris at her side, creates a large colorful universe on his arm. However, the judges don't see the message in the tattoo and she loses to DJ, putting her alongside Alli in the bottom two. But the judges know Sharpe is a good artist and want to see more.
Click here to see some of her work!
The final show will air at 10 p.m. Wednesday on Comcast Channel 185 and Frontier Channel 144.
Source: http://www.news-sentinel.com/apps/pbcs.dll/article?AID=/20130530/NEWS/130539991/1009/NDU
---
Comments
Posted By: PusherMan22
|
6/04/13 8:23 PM
I have to check that show out. Never heard of it before... Hoping it's good!
Posted By: cheechee
|
6/05/13 2:00 PM
I love this girl and I am rooting for her too!!!! Her work is phenomenal!!!