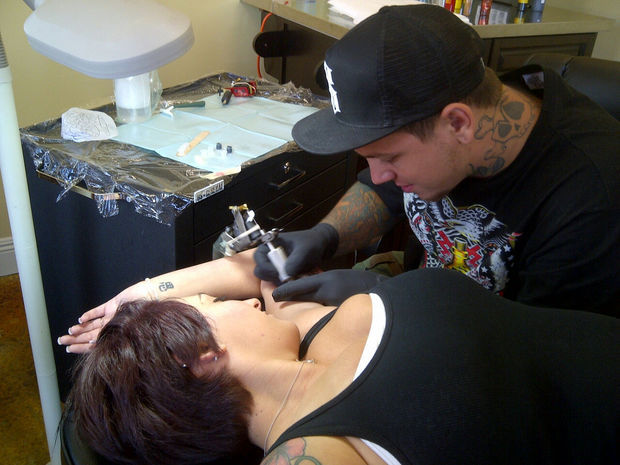 Harvey tattoo shop donates proceeds for victims of tornadoes in Oklahoma
Article by:
blog.nola.com
June 04, 2013
Wicked 13 Tattoos in Harvey took all proceeds they made on May 25th and donated them to the American Red Cross to help victims of the recent tornados in Oklahoma. According to Blog.Nola.com, the proceeds came out to $1,445.
After hearing about donations on the radio, artist Stacey Colangelo approached her boss/shop owner Tracy Stianneaux and inspired her to contribute to the relief efforts.
"What am I going to lose in one day of working? Artists are donating their time to do the work. It's more that they are volunteering their labor," Stianneaux said.
The shop manager Robyn Champagne and Stianneaux chose American Red Cross because of personal experiences with the foundation.
"I remember being a little kid, after the hurricanes came through, and working in our front yard to clean up the damage. The Red Cross workers came up and gave us food and mops," Stianneaux said. "We figured we'd give the proceeds to the Red Cross and they'd give it to the right place."
To get people into their shop, they decided to advertise through social media.
Jade Radecker came in for a tattoo after seeing the post about it through Facebook.
"I hope the families who've been affected will be happy and get everything they want and deserve," Radecker said.
Even though it may seem like $1,445 isn't a whole lot for the disaster that struck, Stianneaux feels that their efforts will make a difference.
"I mean this is just a drop in the bucket, but if we raise a thousand and other people do too, it adds up. I'm really happy we're doing this," Stianneaux said.
We think they will too!
Source: http://blog.nola.com/westbank/2013/05/tattoo_shop_donates_proceeds_for_victims_of_tornadoes_in_okla.html
---
Comments
No comments yet.