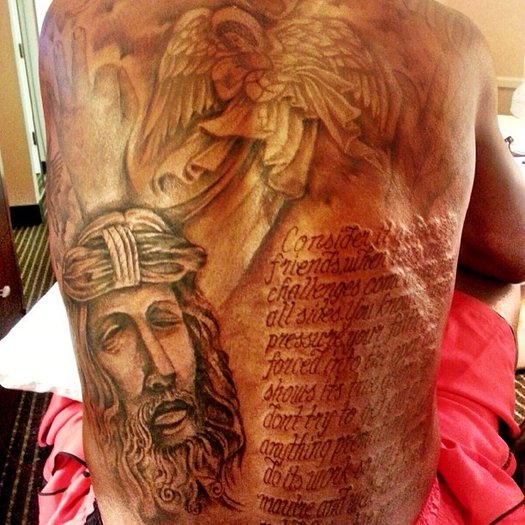 Kevin Durant clears up tattoo misspelling controversy
Article by:
SlingerVille Staff
May 23, 2013
Kevin Durant clears up tattoo misspelling controversy
When Kevin Durant posted a photo of his new back tattoo, people began to gossip about a word that seemed to be spelled wrong.
The tattoo says, "Consider it a sheer gift, friends, when tests and challenges come at you from all sides. You know that under pressure, your faith-life is forced into the open and shows its true colors. So don't try to get out of anything prematurely. Let it do its work so you become mature and well-developed, not deficient in any way."
In the Instagram picture that Kevin initially posted, the word "mature" looks to be spelled "mautre."
Yesterday, after much gossip about his tattoo, Kevin posted another Instagram photo zoomed in on the word "mature," which shows that it is actually spelled right.
"I got mature spelled the right way lol," he wrote under the picture.
So did he get it fixed? We are not sure! What do you think?
Source: latimes.com
---
Comments
Posted By: SmokieAlots
|
5/24/13 6:37 PM
People are so dumb sometimes, their just ready to pounce on people for any little reason. SAD.
Posted By: showmeyourink
|
5/27/13 12:14 PM
For one, I saw that picture and you could hardly read the tattoo because it was freshly done and swollen. Two, YOU CANT zoom on instagram, you can screen shot it, and then zoom in, but it is only going to blur the picture. People were looking for a reason to mess with him and need to get a life. He is KD for petes sake! You really think he didn't check the spelling, or the artist BEFORE it was tattooed?! Come on small minded people.... Quit making something out of nothing!!!!
Posted By: DaddyScrubbs
|
5/28/13 7:59 PM
RIPPPED EM A NEW ONE!
Posted By: 925Lenny
|
5/29/13 7:17 PM
On a positive note. I like the angel.