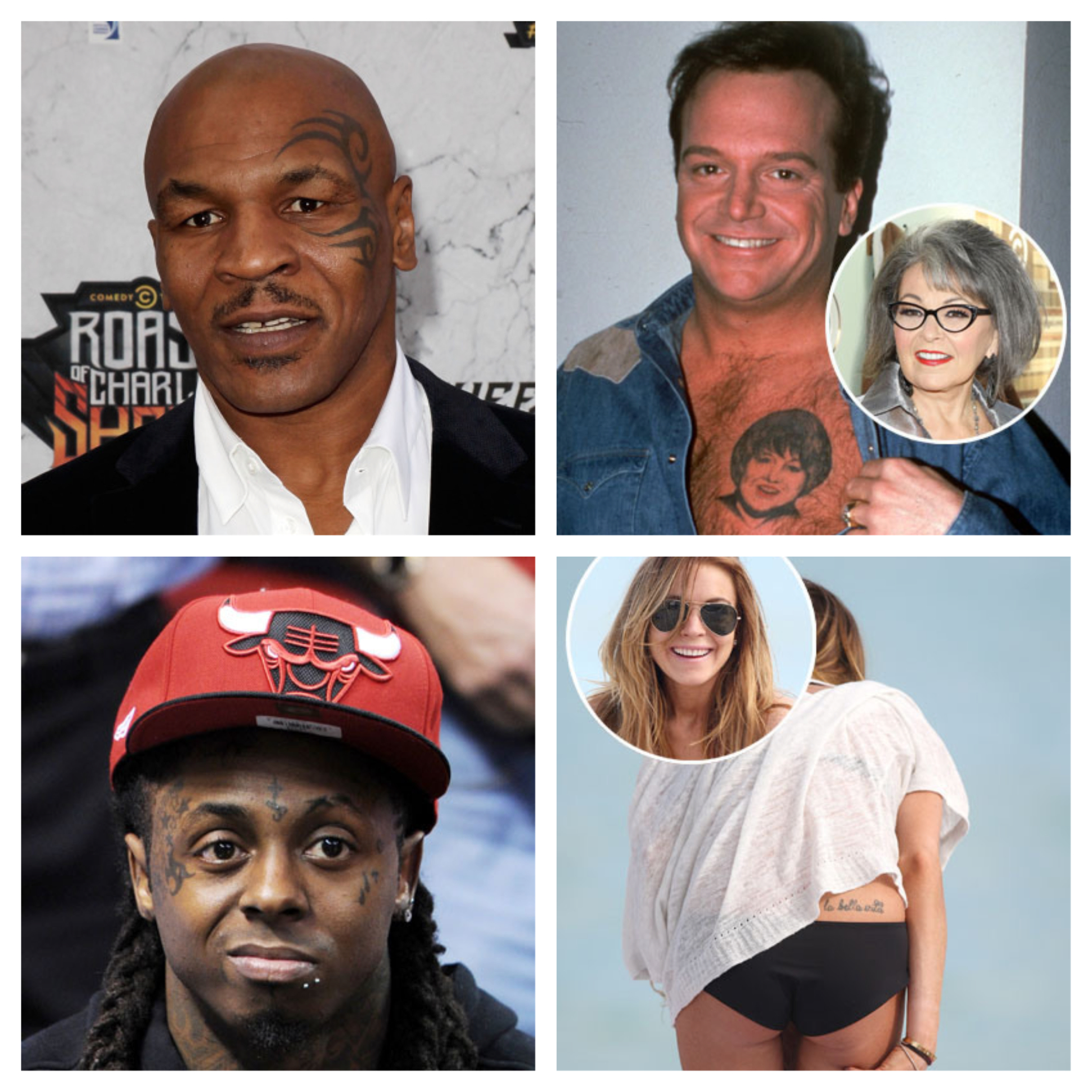 The 30 Worst Celebrity Tattoos Of All Time
Article by:
SlingerVille Staff
May 21, 2013
The 30 Worst Celebrity Tattoos Of All Time
When it comes to bad tattoos, celebrities are notorious for getting criticized for their mistakes. One bad decision, and the world will talk about it.
RadarOnline.com came up with a list of 30 of the worst celebrity tattoos of all time, here they are:
1. Mike Tyson's face tattoo is so famous, that it was mocked in the hit film The Hangover 2.
2. Tramp stamp alert! Lindsay Lohan loves showing off her infamous "la bella vita" tattoo when she strips down into a skimpy bikini.
3. Never get inked with your lover unless you want to fork over massive amounts of money to the laser removal clinic! Tom Arnold learned this the hard way, when he got former flame, Roseanne Barr's, face inked over his heart.
4. Lil Wayne has several tattoos on his face, including a crucifix, stars and tears.
5. Justin Bieber recently got inked on his forearm with an image of a winged woman that looks strikingly similar to his on-again-off-again girlfriend Selena Gomez.
6. He likes designer duds! Rapper Soulja Boy has a few images inked on his face, including the Gucci logo.
7. Amber Rose made her love for her baby daddy Wiz Khalifa clear, when she got his face inked on her arm.
8. The Game is proud of his hometown! In addition to a single teardrop, the rapper has the Los Angeles Dodgers logo on his right cheek.
9. Hopefully Tori Spelling and Dean McDermott stay together, because the actor has her face and bra-clad body inked on his arm for life!
10. Nick Cannon doesn't have any desire to hide his love for Mariah Carey, with her first name in huge letters emblazoned on his back.
11. Megan Fox was so inspired by Marilyn Monroe, that she got the blonde icon inked on her arm. But Megan changed and no longer idolizes Monroe, so the ink is slowly coming off withvisits to the laser removal clinic.
12. Daddy's little girl forever! Eminem loves his daughter Hailie so much, that he had her face and name permanently inked on his arm!
13. This should make you think twice about getting his and hers tattoos! Eva Longoria and Tony Parker both got inked in honor of each other. Eva had Tony's jersey number 'Nine' permanently etched on her neck and both of them had their wedding date inked as well – Eva on her wrist and Tony around his ring finger. Thank goodness for laser removal!
14. Gucci Mane must really like ice cream! After being released from a mental hospital, the rapper added to his facial art collection, getting this attention-grabbing cone tatted on his right cheek.
15. Miley Cyrus' brother Trace isn't afraid of needles! The heavily tattooed rocker has a crucifix and feathers permanently etched on his mug, as well as a Native American Chief inked on his skull.
Click here to see the last 15 of the Worst Celebrity Tattoos Of All Time!
Source: radaronline.com
---
Comments
Posted By: inkkednproud
|
5/22/13 1:39 PM
Wow.... didnt know about all this. Crazy...
Posted By: DeviousDevinTheDude
|
5/22/13 5:02 PM
I think Megan Fox's tats are nice.
Posted By: CurleyLou20
|
5/23/13 8:21 PM
I think she's nice. ;)
Posted By: CountrySlinger2
|
5/29/13 7:01 PM
Obama has a pretty bad tattoo. Clarence Obama from the Bronx. He's a local celebrity.