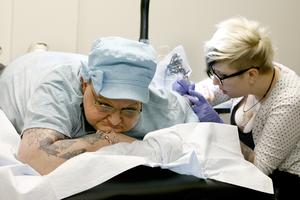 Tattoo Gives Dying Woman a 'Perfect Day'
Article by:
SlingerVille Staff
May 13, 2013
Tattoo Gives Dying Woman a 'Perfect Day'

If you were dying and had one wish to do whatever you considered to be a perfect day, what would you wish for?

Jody Zimmerman was diagnosed last year with lung cancer. Crossroads Hospice asked Jody what she wished for, they asked her what she considered a perfect day and they would make that happen for her. They do this for all their dying patients; it is called their "Gift of a Day" program.

Jody wanted to be tattooed, that is what makes her happy. The 53-year-old jokester has over 20 tattoos and enjoys the process. While most people don't put on a happy face while enduring a painful tattoo, it was the opposite for Jody, she was all smiles, according to CantonRep.com.

"As much pain as I've been through, this ain't nothing," she said. "This is mild."

Jody found out about her cancer just a year after she had quit smoking, and the cancer has since spread to her brain and her bones.

CantonRep.com reported that after a series of painful radiation treatments, she and her family decided to withdraw from further treatment. CantronRep.com wrote, "No more chemotherapy. No more radiation. The cancer has spread too far."

Zimmerman said, ""Nothing will help me, so I told them to let me go. Let me go live my life."

Zimmerman's final tattoo was of two wolves, one adult and one cub with angle's wings and below it "Believe in miracles" in script. This tattoo was inspired by her grandfather, who was part Cherokee and Shoshone Indian and who had made a strong impression on her.

CantonRep.com wrote that in Native American Culture, a wolf is symbolizes survivors.

Click here to read about Zimmerman's other tattoos!

Bridgett Parr was overjoyed to see her sister happy while getting her last tattoo, something she hasn't seen in a long time.

"She just wants to feel good today. She doesn't want to be sick," said Parr. "As far as time, we don't know. And we don't want to know. Who can say how long?"

While Zimmerman got her tattoo, her family could see her joy and they were all touched.

"She just has that spark in her eyes again, and she deserves that more than anybody," said her niece, Many Ross.

The hospice recalls how Zimmerman kept on talking about getting her last tattoo. They say that the "Gift of a Day" program is supposed to be something that is meaningful to that person.

Zimmerman rested her head on her hand looking content and stress-free during her tattoo.

"I've seen grown men in here crying because it hurts," she said. "I always say, 'No pain. No gain.' "

To read the full story, click here!

Source: cantonrep.com
---
Comments
Posted By: tattooedmami
|
5/15/13 9:06 AM
This story is both sad and happy. I wish her a longer life. May god bless her with more time with her family.