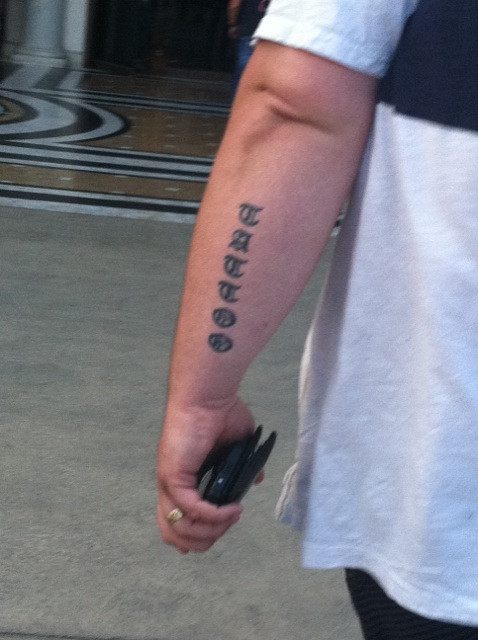 A Tattoo Of The Word Tattoo?
Article by:
SlingerVille Staff
May 10, 2013
A Tattoo Of The Word Tattoo?
There are a lot of bizarre tattoos out there; cartoon characters, company logos, an ex boyfriends name, a celebrity's portrait, etc. One to add to the ever-growing list of odd tattoos is a tattoo of the word tattoo.
A man spotted in Vegas had the word "TATTOO" tattooed on his forearm in old English font.
BuzzFeed.com posted the photo on their site, and here are some of the comments the tattoo received:
Lindsay Rose Dierkes wrote: "My boyfriend got a 'tattoo' tattoo a few years ago. Different font, though. People get a kick out of it."
Hayley Tomlinson wrote: "So meta."
Trace Ahlers wrote: "I did one in black and white as an homage to generic labeling. People always laugh when I show it."
Do you have a tattoo that people like to laugh at? Share it with us!
Source: buzzfeed.com

---
Comments
Posted By: 2fargone
|
5/11/13 5:03 PM
This is a very odd tattoo! I would crack up if i seen this. Cool though!
Posted By: Iam2Tatted89
|
5/13/13 6:59 PM
Maybe it's in tribute to.... the plain, the plain.... Tattoo. The little guy from fantasy island. It's a possibility.
Posted By: AllNightTattoos
|
5/15/13 7:42 PM
I just saw a tattoo of a cartoon character that had a tattoo. Funny.