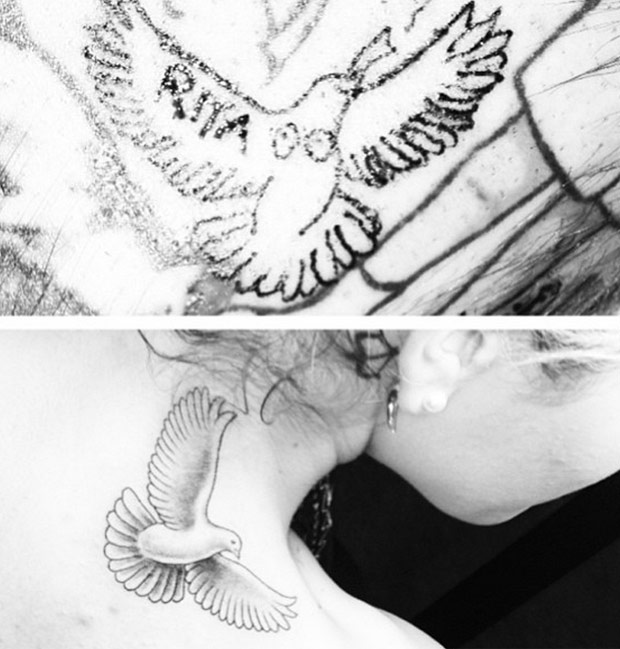 Rita Ora Gets New Tattoo Then Inks Body Artist with Same Design
Article by:
SlingerVille Staff
May 09, 2013
Rita Ora Gets New Tattoo Then Inks Body Artist with Same Design
On Wednesday, the infamous singer Rita Ora got a new tattoo of a dove on her shoulder, and when she was finished, she put the same tattoo on her tattooist!
The New York based celebrity tattooist, Bang Bang tattooed a dove on Rita and then, according to TheSun.co.uk, Rita drew her own version of the dove and tattooed it onto Bang Bang.
Risking a $2,000 for tattooing without a license, Rita went at it.
Click here to read what other celebrities have tattooed Bang Bang without a tattoo license!
After their work was completed, Rita tweeted a photo comparing the two tattoos and wrote: "His and hers! HA look at the difference... It's the once in a lifetime Rita Ora tattoo HA! #neveragain."


Whose dove do you like better?
Source: thesun.co.uk

---
Comments
Posted By: TattooTed
|
5/09/13 6:02 PM
I would have never thought an artist would allow that. They must be good friends.
Posted By: mizceedub
|
5/09/13 8:55 PM
What is up with celebrities tattooing their tattoo artist when they are done getting theirs? Have they not learned yet? Anyway, I think it's pretty awesome either way!!!
Posted By: 2fargone
|
5/11/13 5:01 PM
I'm not sure who rita ora is, but here tattoo and the artist tattoo is a prime example of why neebies should not tattoo until they have perfected the art. It is great that the artist are now letting the celebrities tatt them back! that's awesome. I see the pros and cons in this, but great none the less.