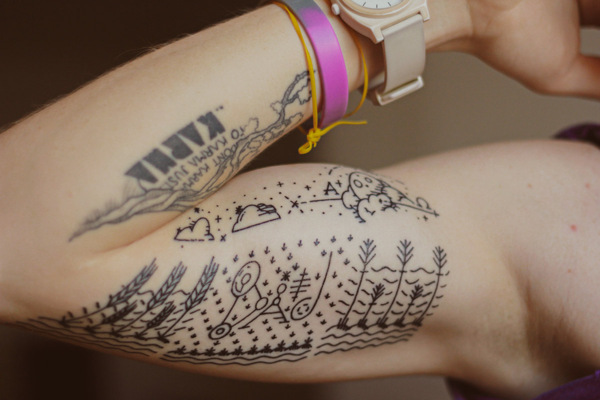 The Story of a Designer's Tattoo in Memory of Dad
Article by:
Slingerville Staff
May 07, 2013
The Story of a Designer's Tattoo in Memory of Dad

"What does your tattoo mean?"

This is a common question that people want to know when you have a tattoo; they want to know the meaning behind it. While some tattoos are done purely for the love of the look, others have sentimental meaning behind them.

Boston based designer Kirk Wallace's tattoo is one of those sentimental pieces. After his father passed away earlier this year, he kept a promise that they made by designing a tattoo that was crafted around the memory of his dad – the very person who taught him the art of drawing.

Here is Wallace's story:

So my dad got sick last June with cancer and heart issues but stuck it out strong for about 7-8 months with us and was just as awesome to have around as always. He died January 11th but in the weeks prior to this while we were hanging out watching jeopardy, he said that when he got better he wanted to get a tattoo of crop circles on his arm. I responded something along the lines of, 'Well if you don't, I'll take care of it, don't worry.' – and so I did!
A day or two after dad's passing, I started sketching. Knowing that I had to take my time and not make any impulse permanent decisions after such a tragic event. But I needed to get working on it right away. It was extremely important I get this done.
Dad's the guy who taught me a lot about art, drawing, doodling, and I remember him coming home from work with notepads of flipbook animations for me. It was so exciting to see the people move, and know that my dad made it happen. He taught me about knee joints and making big balls for fists, things that you can get away with in cartoons that wouldn't work with real people.
While recovering from his quadruple (actually, quintuple) bypass, he said he felt like he had woken up on the other side of the rainbow, not in a good way. His world was flipped, quite literally. He said everything was sideways for about 2 days – a bad acid trip of sorts. So this is where the distorted perspective comes from in the tattoo. Starting on the left with the crops at 90°, then flipped to a bird eye view straight down, spelling dad in the crop circles, and back to 90.
See more from this talented designer on Behance or at trzown.me.
Source: visualnews.com

---
Comments
Posted By: inkkednproud
|
5/07/13 3:41 PM
that is such a great circle. It is very different but it tells a great story!! It always hard to loose someone but Im glad he found peace in drawing and having his tattoo done in his honor.
Posted By: TalkNtats90
|
5/07/13 4:12 PM
I initially looked at the tat, but didn't see "dad" until after reading the article. Very cool tat and story.
Posted By: MothersInk17
|
5/08/13 8:16 PM
I think that tat looks sweet.