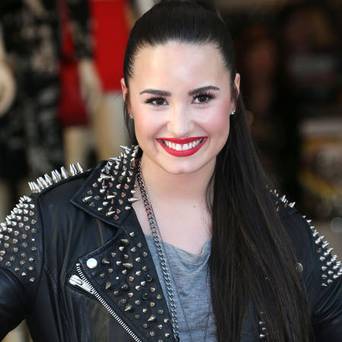 Demi Lovato: Tattoo stops swearing
Article by:
Slingerville Staff
May 06, 2013
Demi Lovato: Tattoo stops swearing
When she is angry and wants to flip someone off, Demi Lovato looks at her tattoo and it reminds her to take the higher road.
The 20-year-old singer has the words 'peace' and 'rock 'n' roll' tattooed on her middle fingers, according to BelfastTelegraph.co.uk and she recently revealed what those words mean to her.
"Well, one's like 'f**k yeh, rock and roll!' And the other's a reminder not to flip people off when I'm driving," she told the Telegraph.
Before her finger tattoos, Demi would make "rude gestures" to people on the road when they would honk at her, but her "peace" tattoo is her inspiration to hold back from doing that.
"Now, when I'm driving, and someone honks at me, I smile at them and it makes them so angry. It's funny to me because they get so much angrier and I'm like, 'You just made my morning by being an asshole,'" she laughed.
Do you have a tattoo that inspires you to take the high road? Share it with us!
Source: belfasttelegraph.co.uk

---
Comments
Posted By: inkkednproud
|
5/06/13 1:09 PM
im not a fan of hers, and im not sure of the idea of the reminder. She is a popular icon and that should be reminder enough. But to each its own. I would have liked to see the pic of the tattoo
Posted By: AssHat2
|
5/06/13 6:25 PM
Reverse psychology almost. I do the same thing, it drives people mad.
Posted By: 1Bigtatoo2nite
|
5/07/13 4:40 PM
PR Stunt tattoo?