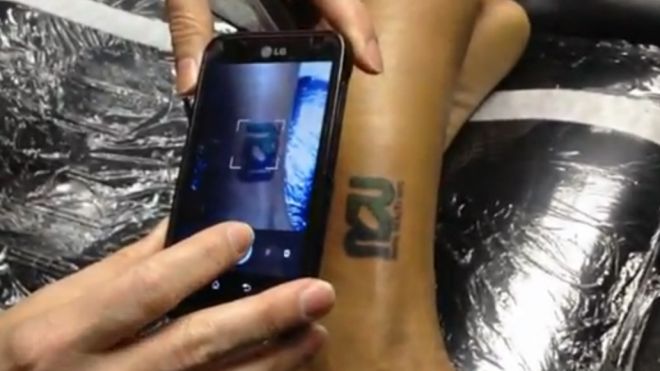 Company Offers Pay Raise If Employees Get Logo Tattoo
Article by:
Slingerville Staff
May 01, 2013
Company Offers Pay Raise If Employees Get Logo Tattoo
Ways to get a raise at your job; work hard, put in the time, go above and beyond your scope of work or get a tattoo of your companies logo on your body! That's right; get a tattoo of your companies' logo! Maybe not the company you work for, but a New York company is offering their employee's a raise if they tattoo the company logo on them!
According to Latino.FoxNews.com, A NYC Realtor firm proposed that if its employees got inked with their logo, they would receive a 15% pay raise!
The best part, since the offer was announced, 40 Rapid Realty employees have taken the company up on their challenge.
"I had a paycheck coming in what was a substantial amount of money different, so it was nice," an employee who got the tattoo done, Brooke Koropatnick, told New York's CBS 2
News.
The company never gave size or location requirements, so Koropatnick decided to get her tattoo behind her ear.
Click here to see where the company's owner, Anthony Lolli, got the tattoo idea from!

Robert Trezza, is the 40th employee to take part in the tattoo challenge.
"I think it's a good opportunity to show commitment to a company that makes going to work fun every day," Trezza told CBS 2.

So does the owner have the company logo tattooed on him? Not yet! Although he did say he plans to get the tattoo, in time.

Source: latino.foxnews.com

---
Comments
Posted By: RockNTats78
|
5/01/13 4:51 PM
That's hilarious (respectfully) laughing at the people that actually did it. ;)
Posted By: mUGStats
|
5/01/13 6:20 PM
I don't think I would do it. Maybe a hidden one and very small.
Posted By: inkkednproud
|
5/04/13 12:12 AM
I saw this on the Today show. I could do it for a pay raise! If anything ever happened, id just get it covered!