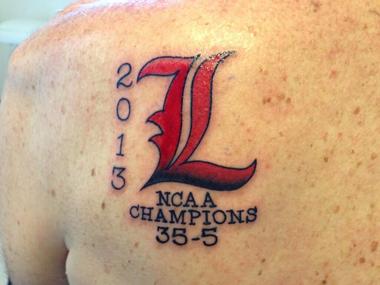 Rick Pitino Got The Tattoo His Promised He Would
Article by:
Slingerville Staff
April 29, 2013
Rick Pitino Got The Tattoo His Promised He Would
We all wondered whether or not Rick Pitino would make good on his promise to get a tattoo if his players won the 2013 national championship, and last week, he did!
Pitino, the Louisville basketball coach, vowed to his team that if they won the championship, he would tattoo a tribute to his 2012-13 team on his body.
When the Cardinals defeated Michigan 82-76 in Atlanta earlier this month point guard Peyton Siva and small forward Luke Hancock were asked about that promise:
Siva: "It was crazy to even think about it. But we won. So he's a man of his word. I told some reporters he should get a lower back tattoo. He said, 'Does it sting?' I said, 'I don't know. I don't have any tattoos.' … I think that was our biggest motivation, was to get Coach P a tattoo."

Hancock: "I don't have any tattoos, but we have a couple ideas. I don't think he knew what he was getting into when he signed up for that one."
Pitino made a promise and he was willing to fulfill it without kicking and screaming. Pitino went to a local tattoo artist, who is a huge Card's fan, to tattoo the Louisville "L", the Cards' record, and the words "NCAA champions" on his back. According to Blog.Syracuse.com, when asked whether it hurt, Pitino equated kidney stones with pain. The tattoo?
"It wasn't too bad at all."
Source: blog.syracuse.com

---
Comments
Posted By: HalsLifeBoatSank
|
4/29/13 8:00 PM
Well, he said he was getting one, and he kept his word. Pretty good work.
Posted By: tattooedmami
|
4/30/13 8:01 AM
aha! He is going to be addicted now! Its pretty sweet too! Nice tattoo. Good man for keeping his word!