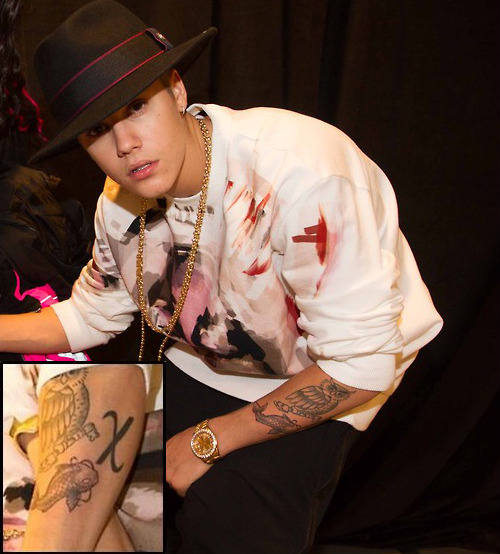 Justin Bieber Shows Off New Koi Fish Tattoo
Article by:
Slingerville Staff
April 23, 2013
Justin Bieber Shows Off New Koi Fish Tattoo
Young pop icon Justin Bieber got a new tattoo last week to add to his ever-growing collection.

At just 19-years-old, Justin has over ten tattoos; a bird on his hip, a Hebrew rib tattoo, praying hands, a crown, the Indian head hockey team logo and much more. To add to the collection, Justin got his 13th tattoo of a koi fish on his arm. The koi fish is near his owl and X tattoo and was first seen last week when he was backstage of his Copenhagen concert, according to AceShowBiz.com.

What does a koi fish symbolize? Good fortune and good luck!

What do you think of the mega stars new tattoo?
Read more: aceshowbiz.com

---
Comments
Posted By: Rags2stiches4
|
4/23/13 6:49 PM
That koi is very cool and I like owls, but not his owl.
Posted By: mizceedub
|
4/24/13 11:12 AM
I like his koi. He should have had some type of theme instead of randomly throwing tats on his arm. But its his body, art, and he can do what he want! Lol