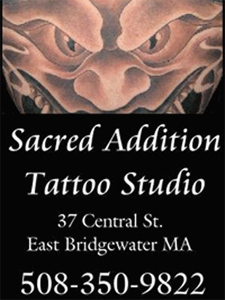 Best Tattoo Parlors South Of Boston
Article by:
Slingerville Staff
April 17, 2013
Best Tattoo Parlors South Of Boston
We have said it before and we will say it again; getting a tattoo is permanent, so make sure you do your research and have it done by an artist. When you make the decision to get a tattoo, don't just jump into anyone's chair; you need to make sure you have checked out the shop and the artist. Is the shop clean, does it have a good atmosphere, and is the person tattooing you experienced? These are some important questions you need to be asking.
One of my worst experiences getting tattooed was when I just went to a guy simply because he was open and I was impatient. He put off the worst vibes my entire tattoo, he was not into what he was tattooing on me, and he did a poor job on my tattoo. If I had done some research, this would not have happened. Getting a tattoo is an intimate thing, you want to remember the moment, and you don't want to remember some shitty artist making you feel uncomfortable and not putting forth an effort to make it look nice.
If you are ever south of Boston, here is a list of great tattoo parlors from Boston.CbsLocal.com:
Broad Street Tattoo
16 Broad St.
Bridgewater, MA 02324
(508) 279-2828
www.broadstreettattoo.com
New to tattoos? A little nervous about getting one done? If so, then Broad Street Tattoo is for you. This shop is known for its professionalism and warmth. No tattoo elitists here, simply talented, friendly, knowledgeable folks who will give you a great tattoo. If you're a little unsure on what you want, you can count on the staff to guide you in making the best tattoo decision possible, which is pretty important when you consider you'll be wearing this ink for the rest of your life.
Sacred Addition
37 Central St.
East Bridgewater, MA 02333
(508) 350-9822
www.facebook.com/sacredaddition
Located just up the road from Broad Street Tattoo is Sacred Addition. This shop may be small but you'll find an enormous amount of talent behind its doors. There are several artists who all work at Sacred Addition and all are top notch. Each artist has his or her own style so you'll be sure to want to browse their books and find the one who best suits your tattoo needs. Plan ahead and be sure to book an appointment with the artist who best matches your taste.
Cobra Custom Tattoo
26 Main St.
Plymouth, MA 02360
(508) 747-8135
www.cobracustomtattoo.com
Cobra Custom Tattoo describes itself as Massachusetts' first and finest tattoo parlor, and that's certainly an epithet that its customers agree with. While the shop focuses on American and Japanese-style tattooing, its wide array of talent makes any custom job come out just as the client imagined. The shop prides itself on its dedication to safety and health. With the perfect mix of talent and professionalism, Cobra Custom Tattoo is a great parlor for both those who are experienced tattoo veterans and newcomers looking to getting inked.
Sinners and Saints Tattoo
37 Depot St.
East Wareham, MA 02571
(508) 295-1366
www.sinnersandsaintstattoo.com
If you want a great tattoo surrounded by some great eclectic atmosphere, Sinners and Saints is the place for you. The shop is filled with great B-movie collectibles and the music continues to pump while you consult with one of the shop's several artists. On top of offering great tattoos, Sinners and Saints also offers body piercing and sells a full line of body jewelry and gauges. It is a great one-stop shopping tattoo and piercing parlor that can take care of all your body modification needs.
Source: boston.cbslocal.com
---
Comments
Posted By: orchidsforme
|
4/17/13 9:46 PM
Well, next time im in Boston, I will know where to go!!
Posted By: RainNThundar34
|
4/18/13 4:29 PM
If I make it I swear I'll get a tat that says: "SOUTHIE"