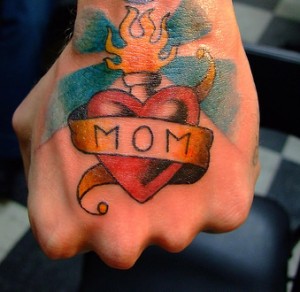 Celebrate Mother's Day—Enter the "MOM" Tattoo Contest
Article by:
Slingerville Staff
April 15, 2013
Celebrate Mother's Day—Enter the "MOM" Tattoo Contest

Mother's Day 2013 is less than a month away and what better way to celebrate than to win a prize for your cool "MOM" tattoo! If you have a mom tattoo or have tattooed a mom tattoo onto a client, you should enter the "MOM" Tattoo Contest!

TattooRoadTrip.com is hosting the contest and we have the details below!

Send [TattooRoadTrip.com] your favorite "MOM" tattoo and win: (1st prize) a custom, hand-crafted tattoo machine from Infinite Irons (valued at $500); (2nd prize) $100 cash money; or (3rd and 4th prizes) an autographed copy of Levi Greenacre's "Mommy's New Tattoo—A Bedtime Story for People," from Schiffer Books!

RULES

(1) Enter one or more digital photos of a "MOM" tattoo (or "Mother," "Mum" or whatever) that you did or was done unto you.

(2) Include your name, address, email and phone number. Indicate if you are the artist. First prize, the tattoo machine, will be awarded to the artist who did the tattoo.

(3) Email images to baxter@tattooroadtrip.com. Be sure to type MOM CONTEST on the subject line.

(4) Deadline for entries is Midnight, Sunday April 28th.

(5) Voting begins on Monday, April 29th and ends on Sunday, May 12th (Mothers Day).

Source: tattooroadtrip.com

---
Comments
Posted By: tattooedmami
|
4/16/13 9:25 PM
This is a cool contest!