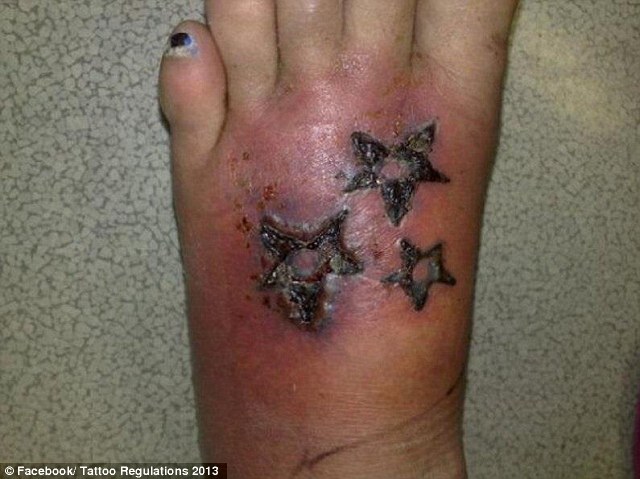 Harry Styles' Tattoo Artist Leads Campaign to Regulate Industry as it is Revealed Untrained Tattooists are Buying Equipment on eBay - with Terrifying Consequences
Article by:
Slingerville Staff
April 10, 2013
Harry Styles' Tattoo Artist Leads Campaign to Regulate Industry as it is Revealed Untrained Tattooists are Buying Equipment on eBay - with Terrifying Consequences
Celebrity tattooist, Kevin Paul has come forward in a campaign to discuss the dark side to the ever-growing tattoo trend.
Paul has worked on artists such as Harry Styles, Ed Sheeran and James Arthur and recently launched a campaign, 'Tattoo Regulation 2013', to establish regulations on the tattoo industry. Paul has heard too many horror tattoo stories of infections and bad work simply because the person tattooing is unqualified. Anyone is able to purchase a tattooing kit online and that should not be the case.
According to The Daily Mail, there are currently few regulations on the tattoo industry.
"There are no qualifications required and no proof of training or experience is needed to open up a tattoo studio or - even more disturbingly - set up a 'mobile' business from home.
"In order to open a tattoo parlor all that is required is that the premises must have wipe able surfaces, hot running water and must have an autoclave, easy to pick up online, which is used to sterilize certain equipment."
So basically, a person with no experience can tattoo you.
'Literally anybody can open up a tattoo studio," Kevin Paul told the MailOnline.
"This is putting members of the public at risk as there are thousands of people who are untrained and unaware of the necessary health risks involved setting up shops.
"Anybody can buy both cheap and professional tattoo equipment off the Internet and there is no law to stop or prosecute people doing this. "
Paul discussed the outcome when this equipment is so easily avalible to just anyone.
"Cheap equipment combined with someone who is untrained is a huge risk to people who are unaware of what to look for when getting a tattoo.
"People who are untrained in tattooing are unaware of the infections and diseases that can be caused by using cheap and unsterile equipment.
"Permanent scarring to the skin can be caused if the tattoo is not done correctly and bloodborne diseases such as Hepatitis B, Hepatitis C and HIV can be spread."
With his well-known name, his celebrity influence, his huge social media and social campaign, Kevin Paul should be successful in his attempt to bring on more regulation to the industry and spread the message about the dangers of unprofessional tattoos.
Tattoo Regulation 2013's Facebook page contains photos of tattoos that are examples of why this is such a huge issue.
Kevin says: "Members of the public assume that a tattoo studio is going to be run by professionals as it has been allowed to be opened, but the problem is that the council will currently allow anyone to open up a studio.
"There needs to be a certain level of training required to open up a studio, preferably at least two years, and also a basic level of knowledge about tattooing and how to be safe and sterile, possibly a test needs to be taken and a certificate awarded when passed to prove this.
"And not all of these people are opening studios, the majority of them are working from their homes where it is even harder to keep hygienic and sterile. The council are actually licensing these people to work from their homes which is outrageous, but only a small number of them even bother obtaining a license to carry out their work.
"Due to these people working from home, the number of underage kids getting tattooed has increased massively. We have contacted many schools which are aware of this but take no further action against it.
"This needs to be stopped and changed to ensure the safety of the general public and to make tattooing a much safer business. We need to make people aware of what to look for when getting a tattoo. "
While there are still little regulations of the tattooing industry, Kevin has some advice for people who are getting tattoos: "People need to go into these studios and ask to see portfolios of healed work that has been done there before even considering getting tattooed by them. Going off of a recommendation is another good way of finding a decent tattooist."
Read more: dailymail.co.uk

---
Comments
Posted By: mizceedub
|
4/11/13 9:02 AM
This is horrible! I have a machine I bought from a convention center, but would NEVER tattoo a person! I get the skins and 'play' with it. Why would anyone just buy a gun and expect to just pull out of box and go straight for someone's skin?! Oh wow.... disturbing.... im glad someone is taking the initiative to fix a situation. As a licensed hairstylist, I paid a lot of money to learn my craft, paid a lot to remain licensed, and have earned my "master" status. I think, just as in profession requiring the skin, blood, and 'medical' aspects, you must be highly trained, state certified and know you know your crap before you just take on an apprenticeship and start digging into ppls skin. Good for Kevin Paul!!!
Posted By: GoneFishing635
|
4/11/13 5:19 PM
Almost made me puke looking at that photo.