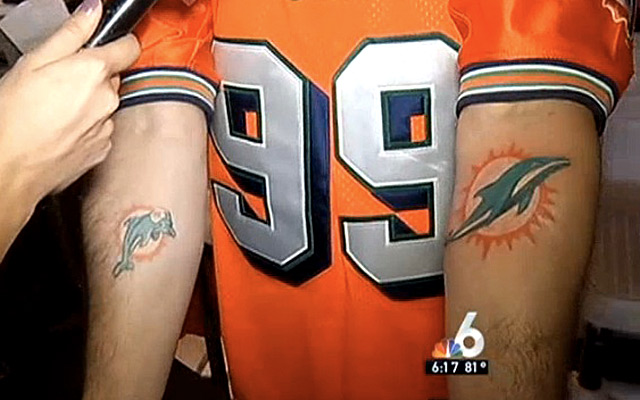 Miami Dolphins Superfan Gets New Tattoo To Match New Logo
Article by:
Slingerville Staff
April 05, 2013
Miami Dolphins Superfan Gets New Tattoo To Match New Logo
When it comes to being a mega Miami Dolphins fan, Wilfredo Bueiz blows the others out of the park. Bueiz loves the Dolphins and wanted to be the first person to tattoo their new logo permanently onto his body.
"I wanted to be the first one," says Bueiz, a Miami Dolphins season ticketholder since 2008. "I actually had the appointment with the tattoo artist the very next day it was going to be released. Then all of the sudden it got leaked."
According to NBCMiami.com, Bueiz already has a tattoo of the old Dolphins logo on his right forearm, but felt that it was out of date. Wanting a fresh Dolphins tattoo, he made a quick phone call to Fins season ticket representative DeAndra Paul, who made a subtle suggestion.
"I just threw it out there: 'Why don't you get the new logo tattooed?" said Paul. "He just ran with it."
Bueiz's was ecstatic with the results.
"It's going to be the throwback, and the new one. Out with the old, in with the new," he said. "And this one we'll win Super Bowls this time."
Click here to get the tattoo shops information!
Source: nbcmiami.com
---
Comments
Posted By: WorldsBestattoo
|
4/05/13 4:04 PM
I like the old logo where the Dolphin has a helmet.
Posted By: RedHotSillyPeppers
|
4/09/13 5:39 PM
What? you have to keep current son! Move into the new century - are you still using windows 96?
Posted By: mizceedub
|
4/09/13 10:50 AM
I like the old dolphin. Looks more nicer. Has a helmet. The new one looks like a dolphins with sun behind it. Nothing that shouts the football team. Die hard fan though!