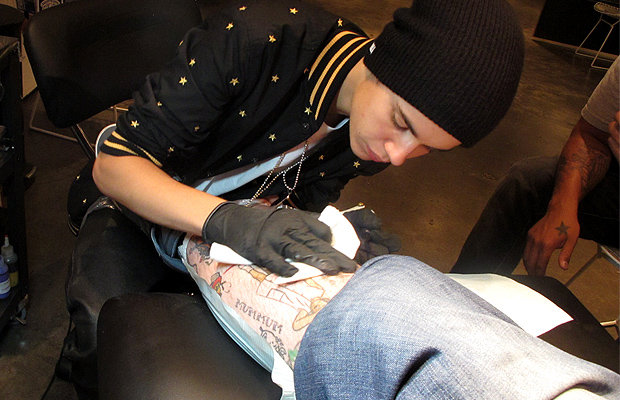 Justin Bieber Turns Tattoo Artist
Article by:
Slingerville Staff
April 04, 2013
Justin Bieber Turns Tattoo Artist

Not only can Justin Bieber sing, but apparently he can also tattoo.

Justin is usually the one getting tattooed, but in this circumstance, it was him tattooing the infamous New York tattoo artist, Bang Bang.

Although this was back in June, the photo has only recently been released.

In the photo, you see Bieber tattooing a muscular mouse onto Bang Bang's leg and next to the mouse he wrote Swaggy. Swaggy is the name of his signature cartoon character, according to Omg.Yahoo.com.

Bieber tattooed Bang Bang the same day that Bang Bang tattooed "Believe" on his right forearm.

To see other celebrities that Bang Bang has tattooed, click here!
Source: omg.yahoo.com

---
Comments
Posted By: JanetMacson09
|
4/04/13 4:39 PM
That's just a tease.. I want to see the thing!
Posted By: Hot92LAFM8
|
4/05/13 4:22 PM
Heres the link. Your welcomed!

http://omg.yahoo.com/blogs/celeb-news/justin-b ieber-turns-tattoo-artist-173407962.html
Posted By: mizceedub
|
4/04/13 10:42 PM
Wow... multi talented... I want the biebs to tatt me!!! lol