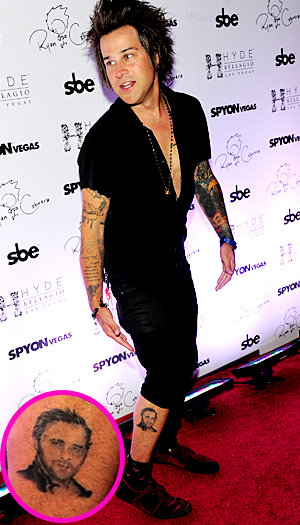 Ryan Cabrera Have a Tattoo of Ryan Gosling's Face
Article by:
SlingerVille Staff
April 02, 2013
Ryan Cabrera Have a Tattoo of Ryan Gosling's Face

Thursday, singer Ryan Cabrera showed off his bizarre leg tattoo before an acoustic performance at Hyde Bellagio in Las Vegas – the face of actor Ryan Gosling!
Why would he tattoo another man's face on his leg? It appears that Cabrera was just playing a fun game with one of his buddies called tattoo roulette.
Cabrera explained tattoo roulette in an interview that he gave with Lance Bass on the SiriusXM Radio show "Dirty Pop" last month.

"Me and my buddy we go in [the tattoo parlor] and he chooses one thing off the wall for me, then I choose one thing for him," Cabrera explained. "You can't see it until after it's done and then we unveil them at the same time."


According to OhNoTheyDidnt.LiveJournal.com, tattoo roulette has already gotten Cabrera a unicorn and a Care Bear tattoo. Although it seems like anything goes for this game, there are a few guidelines to follow while playing.

"The only rules are that it can't be religious and it can't offend anybody,"
When Cabrera got Goslings mug on his leg, his friend had to get a Hershey's Kiss permanently inked onto his body.
What do you think of tattoo roulette, would you play?



Read more at ONTD: ohnotheydidnt.livejournal.com
---
Comments
Posted By: DeliciousTattsLV
|
4/02/13 4:27 PM
They call him R'Cizzie on the streets!
Posted By: mizceedub
|
4/04/13 10:39 PM
This is flippin hilarious!!!!! I wanna play!!!! Anyone wanna play with me???