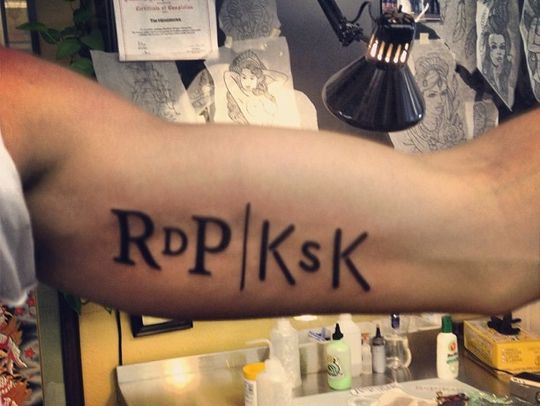 Kasey Kahne gets a tattoo with grandfathers' initials
Article by:
SlingerVille Staff
March 27, 2013
Kasey Kahne gets a tattoo with grandfathers' initials

NASCAR driver Kasey Kahne just got a big tribute tattoo on the inside of his left arm.

Known for having one of the most clean-cut images in NASCAR, Kahne shocked people when they saw his new tattoo – the initials of his late grandfathers, Richard and Kenny Kahne.

"For awhile there, I wasn't really into tattoos," Kahne said Friday at Auto Club Speedway. "But over the last year, I've thought about it and it's been the only thing I've wanted up to this point."

Click here to see where Kahne almost got tattooed earlier this month!

Last week, Kahne met with the popular tattoo artist, Tim Hendricks in Costa Mesa, California.

"It was first class and I enjoyed every bit of it," he said. "... I laid there and he drew it on my arm and that was it."

According to USAToday.com, Kahne kept quiet about his plans for a tattoo, he didn't tell anyone until it was already done.

"I just kind of did it on my own, quietly," he said. "...If It's meaningful and something you want to do, go for it. (My mom) actually really liked it; she thought it was really neat.

"I didn't know which direction she would go, but she was pretty happy about it. She said it brought a little tear to her eye."

Click here to read what Hendrick Motorsports teammate Jimmie Johnson had to say about Kahne;s tattoo!

What do you think about Kahne's tattoo, do you like it?

Source: usatoday.com
---
Comments
Posted By: mizceedub
|
4/01/13 1:11 PM
Simple and to the point. I love it. Sometimes it's the most simple things that mean the most.