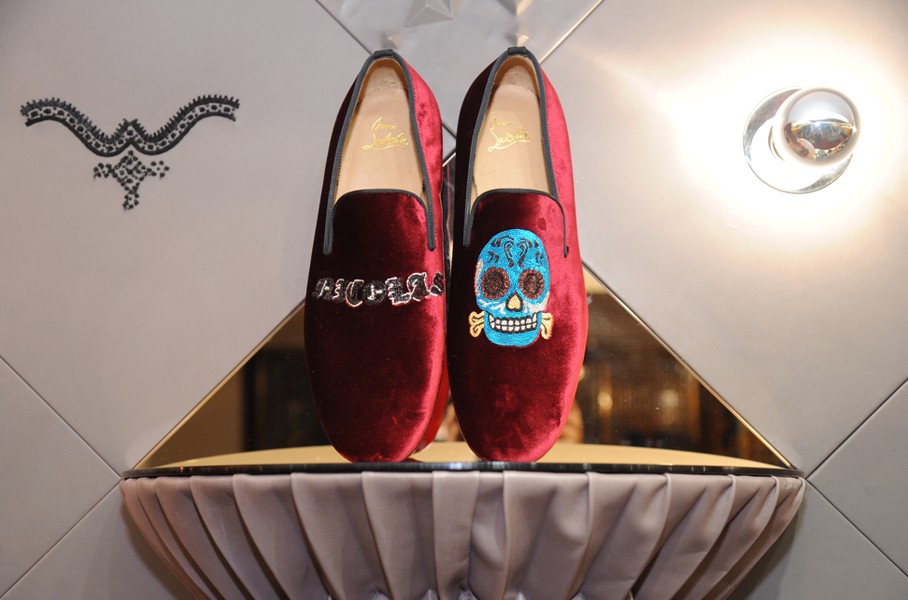 Christian Louboutin Wants Your Tattoo On His Shoes
Article by:
SlingerVille Staff
March 26, 2013
Christian Louboutin Wants Your Tattoo On His Shoes
When it comes to fashion, people love to wear one-of-a-kind pieces, something that is exclusive. This leaves designers innovating creative ways to customize their product for their consumers. Christian Louboutin has made out above and beyond in this area, creating an individualistic way for his consumers to express themselves through their shoes.
According to Forbes.com, Louboutin has launched a special service to make his men's shoes truly one-of-a-kind. Through embroidery and beadwork, Louboutin takes an image of his consumers tattoo, and puts it onto their very own pair of Christian Louboutin shoes. Therefore, in-order to own a pair of these exclusive shoes you must have a tattoo.
How do you go about getting your custom Louboutin shoes? Forbes.com reports, "First you have to go to a Christian Louboutin men's concept store with a Tattoo Parlor (locations in Paris, New York, Hong Kong, Los Angeles and London. The staff will take a photograph of your tattoo then they will send the image to Paris where the designer himself will review and approve it. From there you pick the type of shoe, the kind of fabric and embroidery, the colors and the placement. The Paris team will then work on the design then send the drawings and materials to Italy and India for production and embroidery. The service takes about three months after final approval. A considerable wait, but when you really think about it, it's a small sacrifice because at the end of the waiting period you have a pair of shoes that no one else in the world has."
Louboutin said, "It started as an idea of a present for a friend, I made a pair of shoes for him embroidered with his tattoo. A lot of my friends have tattoos, I realized that it's not only just a part of pop culture but a bit of a map on someone's body which says something about people. A part of their life, like an armor or a crest. Instead of carrying someone else's crest on a loafer, I thought it would be modern armories, your own crest on your own shoe. Instead of a classical made to measure bespoke shoe, which other men's shoe brands do very well, this is my modern approach to bespoke."
While this unique product is mainly geared toward men's shoes, they also offer four different shoe styles for women.
Would you want shoes with your tattoo embroidered on them?
Source: forbes.com
---
Comments
Posted By: tattooedmami
|
3/26/13 1:29 PM
Holy Smokes!!! HELL YEAH!!!!!! I can only imagine how much these would cost...
Posted By: 123Slinger
|
3/26/13 4:26 PM
That's pretty cool, but the article doesn't mention pricing. I'm almost positive I can't afford them. I have a tattoo in mind too.
Posted By: KatieSmalls03
|
3/27/13 3:01 PM
His regular shoe/pumps with out custom embroidery are 1000 dollars - so I would guess 5 -10K