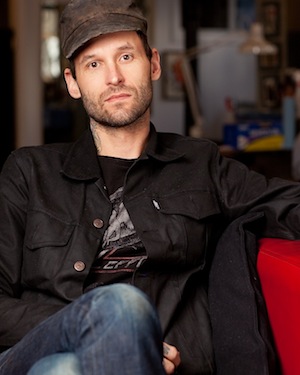 7 Top Tattoo Artists in L.A.
Article by:
SlingerVille Staff
March 22, 2013
7 Top Tattoo Artists in L.A.

When you are looking for a tattoo artist in major cities, it can be hard because of the amount of them at your disposal. Los Angeles is one of the most tattooed cities in the world, for example. They have so many artists for you to choose from, that you may need to do a little research to find the best person for you. LAList.com weeded through LA artists and found the people that they felt are the greatest in the area. These artists are the cities "tried-and-true standouts", they have a very good reputation, faithful clients and their work is true art with each piece they do. LAList.com warns that these are not cheap tattooists, but they are worth it if you are getting a true piece and want it done by a professional.

Here is the list from LAList.com:

#7: Bryan Burk, Darkhorse Tattoo
After 11 years at Spotlight Tattoo, Bryan Burk left the famed shop on Melrose to open his own private studio. That concept was soon ditched when Burk found himself opening up his shop, located in the heart of Los Feliz, to the public in 2010. You can find him at Dark Horse designing and tattooing American Traditional and Japanese works of art on a slew of very happy, very satisfied, and very colorful customers.

Darkhorse Tattoo, 4630 Hollywood Blvd, Los Feliz, 90027 (323) 665-7345

#6: Julie Becker, Private Studio
As a child, Julie Becker hated her art class. These days, Becker boasts a diverse portfolio (including a former career in modeling) and an interest in a range of styles. Working out of a private studio, she custom designs all of her pieces with the shape and movement of your body in mind. With clean, fluid lines and a love of all things aesthetically pleasing, she'll bring a feminine sensibility to even the most hardcore of tattoos.

#5: Eddy Deutsche, Private Studio
If you ever want to sound like you know what you're talking about when it comes to tattooing, name drop Eddy. Actually, don't do that, that's a douche move. Growing up, all Eddy Deutsche ever wanted to do was tattoo, so much so that he hand poked his first tattoo - on himself - when he was 12 years old. Talk about a badass in the making. He continued to practice on himself and his friends until he was old enough for an apprenticeship. Now, some 25+ years and thousands of tattoos later, he inks by appointment only at a private studio in Los Angeles.

Eddy Deutsche, (510) 206-5281

#4: Christopher Conn Askew, Private Studio
Looking at his artwork, you'd never know Christopher Conn Askew never received any formal art training. His aesthetic is traditional, with a vintage, fantastical, and occasionally dark vibe - not necessarily gothic, but if Edgar Allan Poe were alive today, it's safe to say he'd get tattooed by Chris Conn. When he retired from tattooing to focus on his painting back in 2006, the tattoo world shed a collective tear. Late last year, Askew announced his (limited) return, much to the delight of anyone in the know. Get in with him before he decides to retire permanently.

Christopher Conn Askew. To book an appointment, email chris@sekretcity.com with your full contact information and a description of the tattoo you'd like to get.

#3: Jiro Yaguchi, Onizuka Tattoo
If you want a tattoo with any sort of Japanese influence, look no further than Jiro Yaguchi. While skilled in using a tattoo gun, Jiro Yaguchi's true talents lie in the machine-free "tebori," or hand poke, method, especially when rendering color. He's also a big fan of adhering to traditional "Irezumi" design rules, in which certain flowers/elements/animals are matched together. The quality and thought put into his work will have your tattoo looking like a watercolor painting, leaving behind vivid, striking hues and a cohesive color story.

Onizuka Tattoo,120 Astronaut Onizuka St, Little Tokyo, 90012 (213) 626-0374

#2: Marco Cerretelli, The Honorable Society
Marco Cerretelli has perhaps the most romantic background on this list: he was born and raised in Florence, Italy, where he graduated from the Academy of Art; he studied under the oldest living Italian tattoo artist, Maurizio Fiorini; his first gun was made from a Walkman, a toothbrush, and a pen. That's a rich back story for an artist in LA, one that he translates into his work. With his penchant for the delicate and the details, being one of Cerretelli's human canvases is nothing short of an honor.

The Honorable Society, 8424 West Santa Monica Blvd, West Hollywood, 90069 (323) 654-2440

#1: Jeremy Swan, Broken Art Tattoo
Broken Art Tattoo is purposely hard to find, a blink-and-you'll-miss-it remodeled basement in a building set back from the street, as to avoid drunken fools coming in for ill-advised tattoos. If you're lucky enough to stumble upon it, you'll find the owner and the number one artist on this list. Jeremy Swan is surprisingly both humble and kind, and has a personality that puts you at ease whether it's your first tattoo or your fiftieth. But what really matters is his skill: his style is hyper traditional, with a belief in "clean lines, black shading and solid color, embellished with west coast fine line details." What that means for you is exceptional line work, a design and color layout to compliment your vision and your body, and a piece of permanent art you'll be proud and excited to show off. He's also really, really adept at cover-ups; chances are that if he can't find a way to conceal your Spring Break '99 tramp stamp, no one can.

Broken Art Tattoo, 2400 Hyperion Blvd, Silver Lake, 90027(323) 661-4777

Do you know an LA tattoo artist that you want to add to the list?
Source: laist.com

---
Comments
Posted By: mizceedub
|
3/24/13 9:40 PM
wow... I wonder what there starting prices are....
Posted By: JardeenMasto
|
3/25/13 1:26 PM
Probably just above the price point you can afford - eeww, tough break there MizzCeeDubSet! ;o