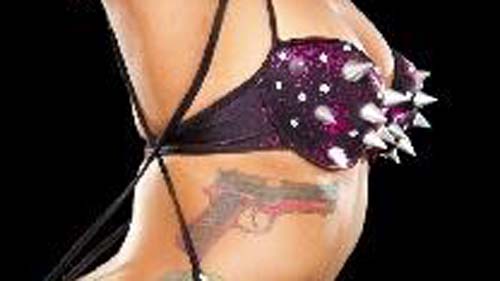 Stripper Says She Was Fired for 'Undesirable' Tattoo
Article by:
SlingerVille Staff
March 21, 2013
Stripper Says She Was Fired for 'Undesirable' Tattoo

On Wednesday, stripper Talayna Clements went to federal court to file a lawsuit against a Stadium Club strip club where she worked, claiming that she was fired for having an "undesirable tattoo."

According to NBCWashington.com, Clements (stage name Casey) has a big tattoo going down her side that spells out "LOVE" in weaponry.

"The 'L' is a handgun, the 'O' is a hand grenade, the 'V' is a switchblade and the 'E' is a machine gun."

Clements claims that not only did Stadium Club fire her for her tattoos, but also that she was denied minimum wage and was sexually harassed on the job. NBCWashington.com reported that after she was initially fired for the tattoo, she begged for her job back and when she got it back she was forced to perform sexual favors on her boss and she was not paid minimum wage while she was dancing.
Source: nbcwashington.com

---
Comments
Posted By: nancy67564
|
3/21/13 6:53 PM
Man thats pretty rough. I hope she wins that one, if that story is true.
Posted By: mizceedub
|
3/21/13 9:24 PM
Im not sure why she got fired. When you audition to be hired, they usually see you from head to toe. I'm sure, I assume she had this before she was hired, they saw this tattoo. I would also like to see the handbook which clearly states their position on acceptable and unacceptable tattoos.
i find it odd, with some of the behavior in strip clubs, why she is being singled out because of her tattoo.. Cleaver tattoo... Wish I had thought of it...
Posted By: Afraid2FlyGuy
|
3/27/13 3:36 PM
You seem to know a lot about the process of becoming employed at a..... (I'm doing air quotes with my fingers now) "body shop" ----- How youuu do'n.... MizCeeDubSac? ;)