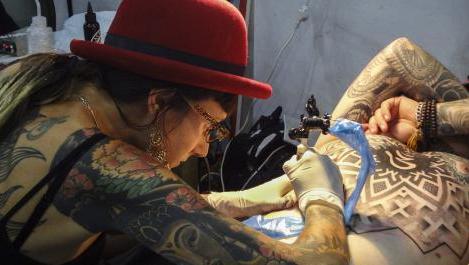 Tattoo Culture Shifts from Rebellion to Fashion at Argentine Convention
Article by:
SlingerVille Staff
March 15, 2013
Tattoo Culture Shifts from Rebellion to Fashion at Argentine Convention

Last week, the ninth annual Tattoo Show was at Hotel Bauen in downtown Buenos Aires, were approximately 40,000 people attended. According to event organizers, they have seen a shift in the tattoo culture over the years. What used to be a sign of rebellion is now a symbol of idols or loved ones and people see tattoos as fashionable.

According to Alejandra Basualdo, head of public relations for Mandinga Tattoo Studio, over 250 tattoo artists from around the world came to Hotel Bauen; artists from Germany, Italy, Brazil, Mexico, Norway, Uruguay, and Peru.

This year, there were 93 stands set up for artists to display new techniques. While some of the attendees walked around and watched the artists at work, others got tattoos.

Event organizers and tattoo artists say that the culture of tattoos is transforming; for today tattoos are looked at more as a mainstream style and a way for people to express what is important to them, rather than symbolizing rebellion.

"It's a style," Basualdo says. "Many young people get tattooed for style."

She states that she even sees tattooed people in wealthier communities.

"The other day I was in the Unicenter Shopping, where before, it was not common to see people tattooed," she says. "And it amazed me to see how many people had tattoos."

Tattoo artist Giancarlos Villena, from Peru, says that this is a international trend.

"For younger people, the tattoo is no longer an act of rebellion like it was 20 years ago," Villena says.

Vilena reported that today people's tattoos have meaning behind them.

"Currently, there are many people who ask to have the face of an idol or of a loved one tattooed on their body," he says.

To read what attendees getting tattooed at the event had to say, click here!

Back when tattoos were a form of rebellion, Hector Ponti began both getting tattoos and tattooing. He told GlobalPressInstitute.org that when he first started getting tattoos, it was to rebel, but now it is for love.

"I rebelled against my folks," he says. "At 14 years old, since they did not let me get tattoos, I got four tattoos in one week. Now, I get tattoos for pleasure, because I love it."

His tattoos are symbols of what is important to him.

"All of my tattoos mean something," Ponti says. "I have my wife, my kids and my granddaughter tattooed on my body."

To read the full article, go to Global Press Institute!

Source: globalpressinstitute.org

---
Comments
Posted By: BCCanadaRules
|
3/18/13 5:11 PM
That sounds like a bad ass convention and show. I wish I could experience that type of show in another culture. I hear the Argentinean people are very cool.