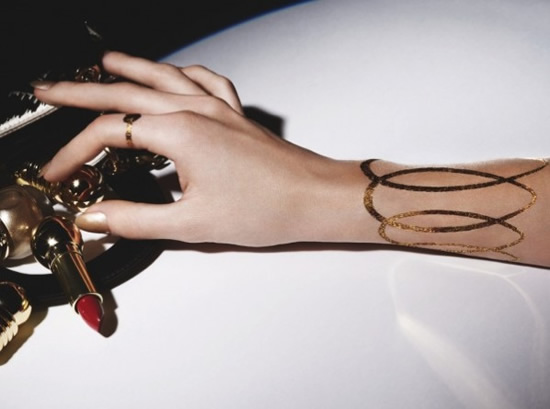 Would You Buy a 24-Carat Gold Temporary Tattoo for $120?
Article by:
SlingerVille Staff
March 13, 2013
Would You Buy a 24-Carat Gold Temporary Tattoo for $120?

How much would you pay for a temporary tattoo?

Christian Dior recently debuted their new line of 24-carat gold temporary tattoos that retail for $120. Inspired by a 17th century Grand Ball, jewelry designer Camille Miceli created the 24-carrot gold temporaries. The collection includes cuffs, bracelets, earrings, necklaces, and other pieces of jewelry you can place anywhere on your body. The collection will be exclusively sold at Nordstrom, according to Live.DrJays.com.

The "limited-edition collection of precious golden temporary tattoos are extremely limited quantities. The jewel-like creations are made using 24-carat gold leafing. Wear as a finishing touch or a complete look for the ultimate in luxury," reported Nordstrom.

Would you wear one of the Dior Grand Ball Golden Tattoos?
Source: live.drjays.com

---
Comments
Posted By: LarryTadinoNYC
|
3/14/13 6:39 PM
I wouldn't buy a 24K anything, gold is a huge waste of cash. Get something worthwhile why don't ya.
Posted By: mizceedub
|
3/14/13 11:38 PM
Uh, absolutely not.... ill go buy a real one for 120.00 leave that for the celebrities..... lol